Looking to educate your kids with some hands-on DIY activities that won't only keep them entertained, but teach them a thing or two about looking after the planet? Look no further – we have comprised our Earth Fest activities into one document that will teach your kids how to be advocates of zero waste, biophilia and plant-based foods!
The terms can be hard to grasp, but the work isn't. At Earth Fest 2019, orgayana set out to educate the kids in the Earthlife's 6 disciplines and if all tasks were completed, they received an orgayana Eco-Warrior Certificate! If you were sad to miss out on some or all of our great activities – or just want to do it at home – here is your chance!
AND, if you can send pictures of us to prove that you did them all – you too can get a certificate to show everyone that you are a true eco-warrior!
BIOPHILIA –  Making SEED DUMPLINGS with Cultivate Central
Do you want to get to know more about SG's local wildlife and plant life? Do you want to spend more time in nature? Biophilia is all about developing the love for nature so that we know what we're protecting.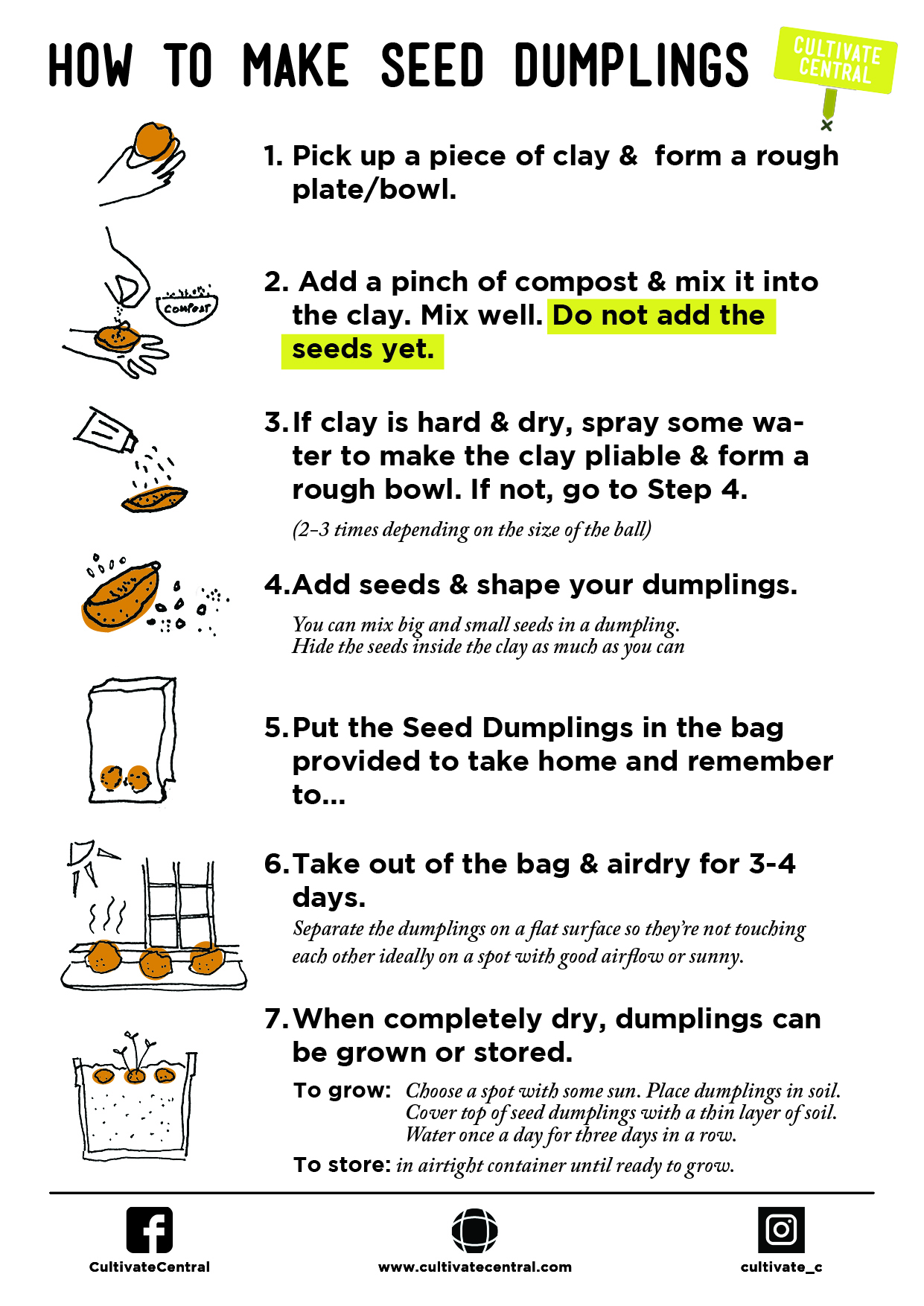 Of course, when doing it at home, you don't need a bag – just let it dry!
Did you know that doing this activity is also:
2. CARBON POSITIVE?
Are you already minimising your carbon footprint? Carbon positive takes it to the next level: removing carbon from the atmosphere!
3. ZERO WASTE – Upcycling BOOKMARKS with Agy – Textile Artist 
Starting to realise recycling should really be a last resort? Zero Waste focuses on prevention: the best medicine!
Find a fabric that you no longer use and would like to upcycle
Cut fabric to the size of a bookmark,
Place pieces of scraps on top of the base fabric
Use a running stitch to sew together
You can now find your pages when reading – zero waste lifestyle!
Did you know that doing this exercise is one that also creates memories –  a good start to having a life with :
4. MINIMALISM
Starting to question materialism? Minimalism allows us to redirect our time and money from buying "things" to creating memorable experiences that make us happier.
5. PLANT-BASED DIETS – Making ENERGY BALLS with Louise Meng
We have to eat, so how do we do it responsibly? Whether it's for the environment, respecting the lives of animals, or to minimise the risk of chronic dietary diseases, the future of responsible consumption is plant-based.
Mix 12 dates into a blender so it becomes one smooth mass – ad 2-3 tbs if water if necessary
3 tsp pumpkin seeds
1 big tbs unsweetened cacao
1 tsp ground flaxseed
2 big tbs oats
Mix all the ingredients into the date paste. Take out smaller chunks and roll them into balls
Roll the balls in shredded coconut
Voila – enjoy!
6. ADVOCACY – Ideas that will save the earth – by Conscious Parenting Training
Do the Earth's systems have a voice? Unfortunately not, but we can speak for them. Through engaging positively with others in society and supporting organisations tackling issues, we can create the change needed.
Find a used notebook with remaining pages or a blank piece that has already been used on one side
Write or draw your idea on the paper
That is it!
Heather won our competition for the best idea – she has depicted how our sea creatures would feel in a world with trash that is separated in bins and one where it's not:
Congratulations Heather!
Want to do this challenge? Do all 4, send photos for documentation to [email protected]com – and you will get this e-certificate with your name, sent to you your parent's email!