Do you feel that time spent doing exercise or a sport, should probably be used being with your kids? Or that you used to do sports every day before kids, but now can't justify setting aside the time? Perhaps you haven't thought about exercising WITH your kids? Get Karine Gauthier's advice to how your family time can be both sporty and fun !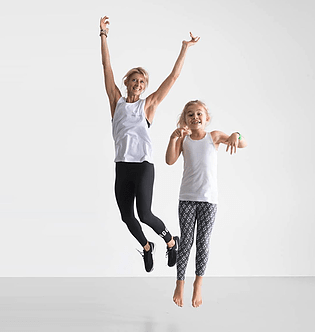 When my husband and I decided to have children we promised ourselves that we would do everything in our power to keep up with our exercises routines and our favourite sports/activities. We knew that we would have certain "limitations" but we decided to turn every parent's challenge into a opportunity and enter parenthood with the intention to prioritise our health and fitness and raise an active family. 10 years on and 3 kids later, I am Glad we made that promise to each other, it's been fun and the best part is, that the older the kids get, the more they're able to do and the more fun we can have as a family!
We all know that raising kids in Singapore has many benefits, but you have to admit that the tropical weather and the easy access to outdoor activities makes it ideal to remain active all year around. Of course Singapore has plenty to offer when it comes to indoor exercise for the family: indoor rock climbing, ice skating , trampolining and endless fitness classes for parents and children (which I have certainly enjoyed with my happy bunch over the years), but thankfully, my favourite activities with the kids are still low in cost, and in nature or at home with minimal equipment required.
When my kids were quite young (3months -3 years old) I invested in a good running buggy and a baby carrier so we could run, walk and hike everywhere with the little ones (Singapore has plenty of parks, gardens and reservoirs to chose from). My baby carrier became my best friend, when I exercised with bub – squatting and lunging when your baby is safely sleeping on your chest, what more do you want! We also bought some co-pilot seats for our montain bikes so we could all cycle together. Again, Singapore is amazing for all the cycling tracks and and the 'park connectors' means that you can cycle from park to park – definitely worth checking out!
As the kids got older, we encouraged them to walk, run and cycle with us. If they don't like running or cycling, perhaps investing in a scooter is a good idea as that is both fun and will able them to follow the pace. Activities that are water based are always good for kids, especially in hot Singapore – so we've lots of swimming, but also stand up paddling boarding here – Sentosa is a great place for that. You'd also always see us carry a football or tennis ball wherever we'd go and a badminton set when we'd go to the park- you would be surprised how many calories you can burn!
Want more surprising sweat exercises? Try playing 'tag' in various animal crawls exercises! Sweat, but also laughter guarantee! Lastly, and this might be my inner child not willing to let go,  but you can't go wrong with a few skipping ropes and hoola hoops in the house! Cheap and cheerful and hours of fun!
Everyone is different and has different interest and of course – what has worked for my family and I to keep us active – might not all work for you, However, I hope it gave you some ideas but most importantly, I hope it inspired you to keep moving together!
I will leave you with two easy fun homework out for the family.
Family buster!
50 star jumps
40 mountain climbers
30 squats
20 sit ups
10 push ups
10 burpees
20 bicycle crunches
30 alternate lunges
40 toe tap
50 high knees
Repeat 2-3 times
The Alphabet Workout
I love that one as you use it in so many ways! Spell your name, family name , word of the day, use your imagination and don't forget to get  the kids involved! They will love it !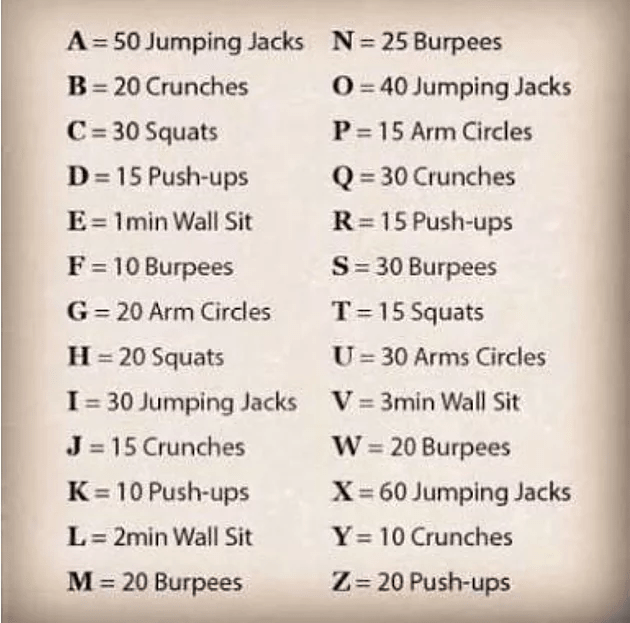 Body Temple is presently doing online classes – check out the site for more info!