Doing b-day parties today can be hard, especially if you are a parent who love to go all in, but also like to look after the environment!
"Ninjago", "My Little Pony" and "Minecraft" – I've been there, and doing birthday themes for my kids through one-stop shops order online can be very tempting. Etzy, party stationery shops and online vendors delivering straight from China makes it it easy to fulfil your kids (or perhaps your own 😉 idea of the 'perfect party'. But it often ends being a plastic celebration with ponies or ninjas mass produced on a lot of single-use cups, plates and decorations.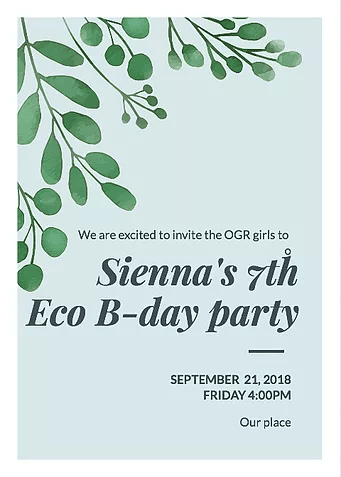 So, needless to say, I was ecstatic, when my 6-year-old proposed to me, the idea of an ECO-party! Not only could I bury my worries on how to do an "eco-LOL-Doll-party", but a ton of great activity ideas came flooding out of my daughter. Only worry was whether we'd have time to put all these ideas into practice in one afternoon, but then the other magical piece of information landed on my lap: "Mum, I only want 3 friends to come and have a sleepover".
Phew. Invitations could go out (digitally of course) and we were ready to rock. Now, your child might not be as eager as Sienna or you are to do an eco-theme the birthday, but this doesn't mean that you can't use the ideas for your kids parties anyway!
Sienna did have a lot of great ideas, and I was also lucky to be collaborating with Karin from Nutritious & Delicious who had kindly donated her e-book on Healthy Kids Lunches + Party Food for potential orgayana newsletter readers! Here I got a lot of inspiration for foods, but also for some DIY activities that the kids could bring back home in their party bags.
4:00 Party start – kids bring sleepover stuff: duvet, nightie, cuddly toy & toothbrush
4:00-5:30: Snacks and DIY lemonade shots + eco activities:
Lemonade making

Recipe book decorating

Homemade play dough

Paint a pebble, 

Press a plant

DIY pasta necklace

Rice shakers out of loo-roll

Chocolate swirls
5:30-6:00: Sushi Class! 
6:00-6:30: Dinner + Lemon-grass-cake time!
6:30-7:00: Open presents + prepare beds for sleeping.
7:00- 8:30: Movie with popcorn
8:30-SLEEP (or trying…)
Strawberry Lemonade 
The kids loved doing their own lemonades, and if you can find some small sweet glasses, like these one's we bought in Denmark in the summer, they will love it even more!
Nutritious & Delicious Recipe for 4 big cups
1 cup fresh or frozen strawberries, hulled 1 cup fresh or frozen raspberries
1/4 cup lemon juice
2 cups water
4 tablespoons coconut sugar
Place strawberries, raspberries, lemon juice, water and sugar in the blender and blend until smooth.
ACTIVITIES
Decorate recipe book
I bought 4 lined books made out of recycled material and got out all Sienna's arts & crafts materials for decorations purposes, like:
– paint, gel and glitter pens
– stamps
– stencils (to make shapes, trees, princesses)
I had printed the recipes they would be doing and eating today (from our recycling pile of paper) .
Homemade play dough
The girls were sceptical about this at first, but when they got to add the colours, they were in heaven and loved to see how the dough transformed! Be careful with the water and start with just half from this recipe. We had to add a lot of flour after, because the dough was too saggy.
Nutritious & Delicious Homemade Play Dough Recipe
1 Cups of plain flour
1⁄4 cup vegetable oil
3 cups water
2 tablespoons cream of tartar
food colouring
Place flour, oil, salt cream of tatar and a few drops of your choice of food colouring in a large non-stick frying pan and stir until well combined.
Over low heat, cook mixture while stirring constantly, until it forms a large ball (it gets lumpy before it gets smooth). Spoon mixture onto the kitchen bench. As soon as it's cooled enough to handle, use your hands to divide play dough into desired portions.
To store, place mixture in a zip lock bag. Can be kept for up to 3 months if stored correctly.
Paint a pebble
You need: Pebbles, pain or other decorations.
If you are lucky like us to have pebbles just outside the house, get the kids to choose their own, and preferably bigger than ours, so they can paint a face, ladybird or whatever they fancy. The pointy paints that come straight out of the tubes are the easiest to work with.
Press a plant
You need: Flowers/plants, a plant presser or just newspaper and books
Sienna was given a plant presser for her b-day, but you can also do this by placing the flowers on old newspaper and stack books on top. The kids loved picking their flower to press – only downside is that needs to dry for at least 5-6 days, so the flowers had to go in the recipe book a little later.
DIY Pasta necklace
You need: Raw pasta Penne, paint and string
Painting raw pasta in many colours and adding it on string for a necklace, was a big hit with the girls. We just used one type, but you can make it more fun by adding other types, as long as there is a hole fro the string.
Rice shakers – out of loo roll
You need: the carton from a loo roll, raw rice, coloured cellotape and/or paint
This idea came from our FAMILY contributor, Conscious Parenting Training's Maguelonne Rousseau. She does this with her playgroups and it's an easy and (partly) environmentally friendly way to create your own musical instrument!
Put together one end of the loo roll and tape it together. Add rice about half-way up and now close the other end, but using different corners, so you get a triangle shape. Tape this end together and start adding the other tapes or paint it as you wish.
DINNER
The girls made 2 out of their 3 dishes themselves. They loved rolling the sushis, adding what they wanted (cucumber and avocado being top pics) and cutting them into maki's. Doing the chocolate swirls were also super fun and easy and little extra dessert before the b-day cake.
Mango and smoked salmon sushi (from Nutritious & Delicious)
Makes 24 small pieces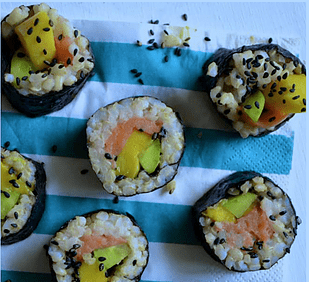 Ingredients:
2 cups cooked brown rice (short grain) or sushi rice.
2 tablespoons seasoned rice vinegar (alternatively mix 2 tablespoons rice vinegar with 2 teaspoons coconut sugar)
100g smoked salmon
1 small cucumber, peeled and sliced into long sticks
1 small mango, peeled and sliced into long sticks
1 tablespoon black sesame seeds
4 nori sheets (roasted seaweed sheets)
tamari or soy sauce, to serve
Making it:
1 Mix warm rice with seasoned vinegar. Allow to cool slightly.
2 Place 1 nori sheet on a clean chopping board and top with 1/2 cup of rice. Spread the rice evenly over the nori sheet, leaving a 3 cm boarder at the top of the sheet.
3 Place 1/4 portion of the salmon along the centre of the rice. Place 1/4 portion of the cucumber and the mango sticks over the salmon. Sprinkle with sesame seeds.
4 Brush the edges of the nori with water and roll tightly. Press the edges to seal.
5 Repeat with remaining ingredients.
6 Cut each roll into 6 and serve with tamari or soy sauce.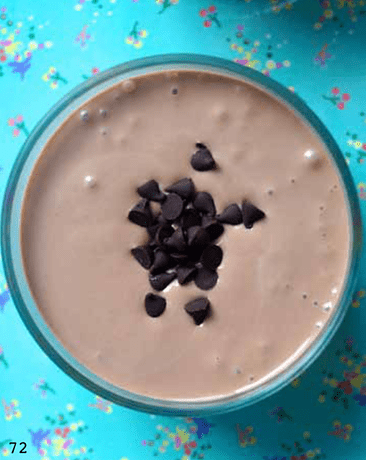 Chocolate Swirl (From Nutritious & Delicious) 
Makes 1 cup or 4 small children size servings
200ml of coconut milk
1 tablespoon of raw cacao powder
1/4 teaspoon cinnamon
2 frozen bananas (peel, chop and freeze the bananas before hand)
pinch of salt
2 pitted dry dates
1 Place all ingredients in a blender and blend until smooth. If you feel that the mixture is too thick to your liking, add some water or ice and blend again to dilute it.
Lemon cupcakes with grass frostning
Ingredients
For the cakes:

125g of softened butter

125g of caster sugar

2 medium eggs

100g of self raising flour

2 tbsp of milk

2 lemons
Method
Heat the oven to 180 degrees.

Using a whisk, beat together the butter and the sugar until light and fluffy.

Add the eggs, flour (sifted), milk and the zest of the two lemons and a little squeeze of juice.

Mix everything until it is a smooth mixture.

Spoon one and a half tea spoons of the mix into the cake cases.

Bake in the oven for 10-15 mins.
Butter cream Frosting recipe:
 (enough to decorate 12 cupcakes with the grass Tip)
100 gm soft Butter (not melted in microwave)

1 & 1/4  cup icing sugar – nearly 200 gm

Vanilla – pod or drops

1- 2 Tablespoons milk

green food color, if  powdered form, nearly 1/4 Teaspoon.
Method:
PARTY BAGS
Snack bag out of material

Bamboo straw

Beeswax wrap

Grow-your-own plant

Natural soap

DIY crafts: Recipe book, Pasta Necklace, Rice Shakers, Painted Pebbles & Playdough (wrapped in the beeswax wrap)
 "This is the best birthday I've ever had!", was the response from Sienna 10am the next morning, on her way to ballet. It beat the My Little Pony, Mermaid and Disco themes from previous years, because we kept it small and creative. And guess how much trash we had after the party? The wrapping paper from the girls' joint present – that was all.
Happy party planning – and if you need more ideas for a healthy and creative birthday for your kids – sign up for our newsletter and get Karin G. Reuter's Ebook on exactly this, in return!