CNY weekend might be over, but if like us you're still feeling like indulging while starting off this Zodiak on a good note, look no further!
Prep Time Total Time about 1 hour (however nuts are soaked overnight) SEE BELOW NOTES
Freezing time 3 hours before serving.
INGREDIENTS 
BASE
1 Cup Pistachio nuts
1/2 Cup Macadamia nuts 
1/2 Cup Medjool dates 
1 Teaspoon Vanilla Extract
1 Tablespoon coconut oil
1 Teaspoon of raw cacao nibs
NO BAKE CHEESECAKE
1.5 Cups of Pre-soaked Macadamia nuts ***
1/3 Cup Coconut cream
1/3 Cup Yacon syrup
1/4 Cup lemon juice
2 Tablespoons of Cashew Nut Butter or Macadamia nut butter
1/3 Cup coconut oil, soft room temperature
1 Teaspoon vanilla extract
4 Large Fresh Strawberries
1 Serving of Strawberry Nuzest Clean Lean Protein
Drizzle with either homemade chocolate or melted sugar-free raw cacao.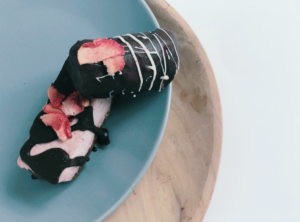 INSTRUCTIONS 
In a food processor blend the BASE INGREDIENTS, nuts, Medjool dates, cacao nibs etc. together until it forms a sticky dough-like consistency. (if your dough isn't sticky enough to bind together, add a couple more dates.) 
Press the dough very thinly, into the bottom of a silicone mould and set in the fridge while you prepare the cheesecakes filling.
Blend the pre-soaked, macadamias, cashew butter, yacon syrup, lemon juice, coconut oil, coconut cream, and vanilla, fresh strawberry together in a high-speed blender until smooth and creamy. Once reached, add your Nuzest clean lean protein strawberry to the mix.
Let freeze for 4 hours then remove from freezer for 15min and serve.
Additional NOTES:
** Option: Once the cheesecakes are frozen you can drizzle your own chocolate dressing, ideally raw cacao with less sugar. Alternatively, you can do like the picture, a rounder oval-shaped "cheesecake" completely covered in chocolate. However, once you drizzle the chocolate or cover the entire cheesecake you need to pop in the fridge for the chocolate to set – will be quick, around 10min.
*** Pre-soak Macadamia nuts for around 4-6 hours prior to the making of these cheesecakes.
Keep the cheesecake in the fridge covered for one week.