Craving fat is not always a bad thing – the problem is if we crave too much or the wrong kind. But what are the good fats and what are the naughty's? And can a healthy fat replace your craving for a not so healthy? Charlotte Dall explains.
Our body and brain need a balance of "healthy" fats for hormone production, cell protection and energy. The "healthy" or good fats are the omega-3 and omega-6 fatty acids found in nuts, seeds, fish like salmon, sardines and tuna, and in eggs and oils. The saturated fats and the trans fats are the ones found in meat and diary products and in very high quantities in many fast-foods, processed foods (cakes, cookies, crisps and candy bars) and deep fried foods. A high concentration of saturated fat in the diet raises your blood cholesterol levels, increasing the risk of blocked arteries, stroke, heart disease, and obesity. Trans fat are the worst fat of all for the heart, and have also been linked with an increased risk of some cancers.
Cravings for fatty foods such as chocolate bars and salty crisps are common – especially under emotional stress, hormonal changes linked to menstruation, pregnancy and menopause or even going on a low-carbohydrate diet. The problem is that these high-fat, carbohydrate containing foods often lead to overeating and weight gain.
Try to satisfy your high-fat food cravings with healthy alternatives.
If you're desperate for that afternoon chocolate bar, you can try to calm your cravings with a Nutty Granola bar – high in healthy omega-3 and omega-6 fats, and great for heart health and energy levels.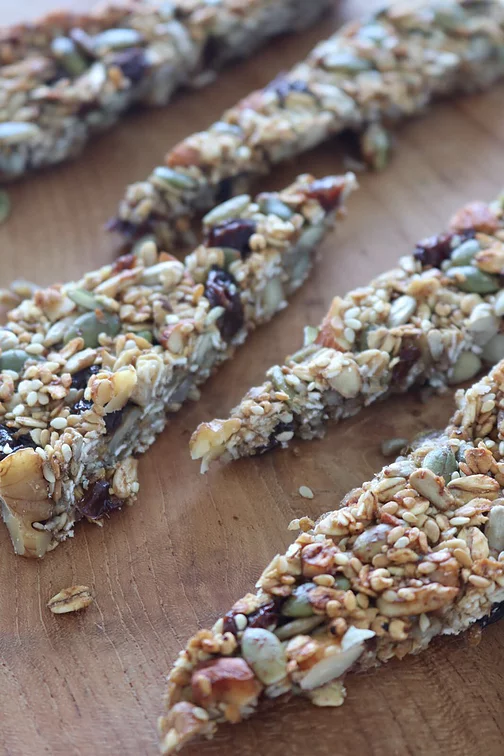 NUTTY GRANOLA BARS
4 tbsp coconut oil
1 tbsp maple syrup
1 cup ripe banana (about 200g)
1 cup rolled oats
1/2 cup puffed millet
1/2 cup raw almonds, roughly chopped
1/2 cup walnuts, roughly chopped
1/4 cup pumpkin seeds
1/4 cup sunflower seeds
1/4 cup sesame seeds
1/4 cup flax seeds
1/2 tsp sea salt
30 g raisins
40 g dried Medjool dates, chopped and pitted ( about 5 dates)
Preheat oven to 160 degrades. Line a 20cm x 26cm square cake tin with non-stick baking paper and set aside.
Place oats, puffed millet, almonds, walnuts, pumpking seeds, sunflower seeds, sesame seeds, flax seeds, sea salt and raisins in a bowl and mix well to combine. Place banana, coconut oil and dates in a food processor or Nutri-bullet and process until smooth. Combine the oat and seed mix with the banana mixture. Press the mixture firmly into the prepared tin and bake for 40-45 minutes or until the slice is golden and firm to touch. Allow to cool in the tin for 10 minutes before turning out onto a wire rack to cool completely.
Slice into bars to serve. Store bars in an air tight container for up to 1 week.
If it is the salty-crispy kind of fat you are craving, boost your energy and mood and reach for a handful of  Spicy nuts!
Almonds – cashews – walnuts and pistachios high in omega-3 and omega-6 fats and with protein, high levels of calcium, copper, iron and zinc you are bound for healthy skin, hair and nails.
SPICY NUTS 
100 g raw almonds
50 g raw cashew nuts
50 g walnuts
50 g pistachios
50 g raisins
1/4 cup cold pressed rapeseed oil
2 tsp sea salt
1 1/2 tsp garam masala
1 tsp Turkish cumin seeds
1 tsp dried chili flakes
Line a baking tray with paper towel and set aside. Heat the oil in a frying pan, add the nuts and roast until light golden, this will take a couple of minutes, stir frequently. Remove the nuts from the heat and place them on the paper towel, to absorb the oil. Place sea salt, garam masala, cumin seeds, chili flakes and raisins in a bowl and mix. Add the slightly cooled nuts and mix well to combine. Store the Spicy nuts in an air tight container.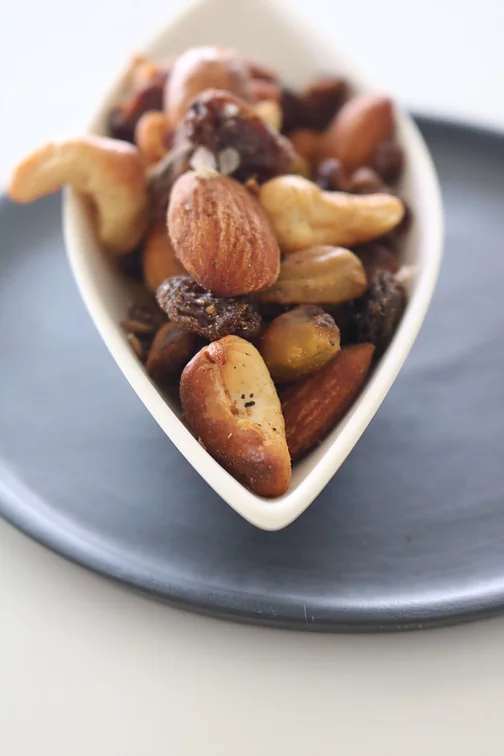 All content on the orgayayana.com including: text, images, audio, or other formats are created for informational and inspirational purposes only. The responsibility for the information and views set out in the content on www.orgayana.com lies entirely with the authors and is not intended to be a substitute for professional medical advice, diagnosis, or treatment. Always seek the advice of your physician or other qualified health provider with any questions you may have regarding a medical condition. Never disregard professional medical advice or delay in seeking it because of something you have read on this website.