Bea Johnson presents her 5 rules to living a zero waste lifestyle.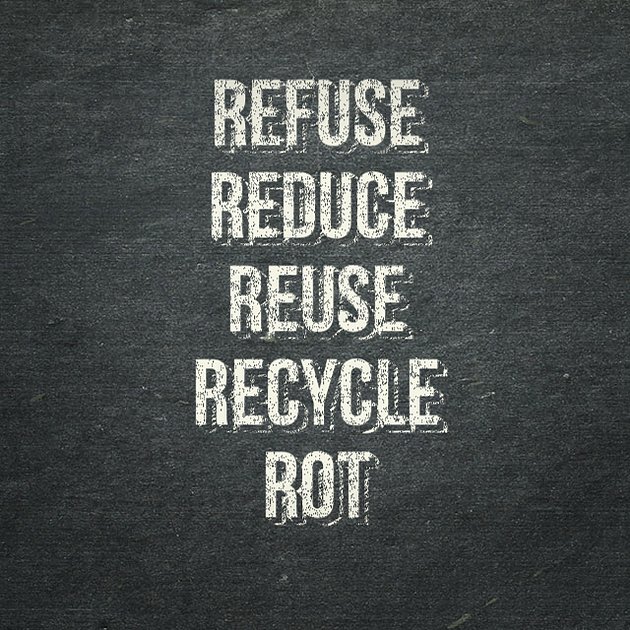 "When you talk about lifestyle you talk about a lot of different aspects, so for us a zero lifestyle is to try and reduce as much as possible, that translates into a simple life that is based on experiences instead of things. In my book I propose a methodology of 5 things to get to zero":
The first is REFUSING everything that we do not need, incl. business cards.

The second is to REDUCE what we do actually need, which means adopting and embracing a simple life, letting go of the things that you don't truly use or need, and make them valuable to other people, to your community as well as boosting the second hand market, which is really important for the future of zero waste.

The third rule of a zero waste lifestyle is to REUSE – swapping anything that's disposable for a reusable alternative that means eliminating paper towels and swapping them for rags, eliminating tissues for hankerchiefs and menstrual products for a menstrual cup. It also means going to the grocery store with totes, jars and cloths bags in order to eliminate food packageng. And it means buying second hand when you need top buy something.

The fourth rule is to recycle only what you cannot refuse, reduce or reuse, so in the end you're left with very little recycling. Zero waste is not about recycling more, but less. This is done by preventing waste to come into your home in the first place, thanks to the first 3 rules.

Finally there is ROT, which is composting the rest. Now at home, we compost peels from fruit and veggies, but only the peel from fruit and veggies that need to be peeled, ie. we don't peel eggplant, turnips, apples, potato, pears and carrots which also allow us to the advantage of the vitamins in those peels. We also compost floor sweepings, my husbands hair, my kids's hair, and my bangs, – I don't compost the rest of my hair, I recycle my hair, I let it grow and donate it to an organization that makes wigs for cancer patients.
See Bea Johnson talk about the 5 R's in our interview here: