As more consumers look to buy 'organic', more brands have started to serve that demand. The choice can be confusing. Anisa Johnny & Dragos Necula guide you through the complex issues behind organic cotton so you can make more informed choices.​
Why We Love Cotton
Natural fibres have certain properties and cotton has been used in clothing for centuries because it is breathable, easily absorbs dyes and is soft on the skin.  Cotton manufacture has a long supply chain process, from growing the cotton seeds to spinning the fibres into yarn to dying or printing. At any stage of the cotton growing process chemical fertilisers such as pesticides and herbicides can be used to ensure the crops grow quickly and are free from weeds and pests. Such toxic chemicals are left in the earth and can affect the food supply chain and drinking water. Organic cotton is cotton textile grown without the use of chemicals to address consumers growing concern for  the environment and sustainability in the fashion industry. The quickest way to ensure cotton is organic is to test fibres by analysing their chemical composition but unfortunately most of us as consumers do not have a fibre testing lab at hand.
The Process
As easy as the test sounds organic cotton producers must ensure each stage of the growing process is chemical free – from land preparation, checking the seeds are not genetically modified, chemicals are not used in the soil preparation and any weed and pest management are all chemical free processes. Once the crop is ready checking the harvesting of cotton bolls and raw  fibre to fabric manufacturing process to the final dying process are free of toxins.  Toxins travel and therefore a non organic nearby farm could contaminate organic cotton and leave traces of toxin in the fibres. If at each stage in the process the cotton must be ensured to be organic, organic textile manufactures have a high level of complexity to deal with. Two organizations (GOTS & OCS) are recognized as the leaders in identifying if cotton is truly organic and producers have to apply and go through a rigorous checking process to receive certification from these organizations.
Certifications
Standard (GOTS) certification does not directly cover fiber processing but it does require the fibre to be certified by other bodies that certify agricultural products. This could be national bodies EEC in Europe or USDA in the US or international bodies such as IFOAM family of standards who certify organic produce.  This at least means the entire chain of processes is tracked if not all directly by GOTS.
GOTS certification checks the production process follows environmental standards such as dyeing facilities have proper filtration facilities and chemicals are disposed of safely. This is to ensure the production does not place strains on ecosystems such as wetlands, woodlands, and wildlife. GOTS certification also takes into consideration other social and environmental responsibility not just for toxic chemicals but other corporate social responsibility issues such as working conditions.
However even though GOTS certification is a more rigorous process GOTS 'Organic' certification still only stipulates that 95% of the fibre must be organic. GOTS states the remaining 5% may be 'non-organic natural or synthetic fibres'. This 'remaining 5%' is to take into consideration that 100% organic may not yet be feasible and some textiles are blended to give them unique properties for example cotton socks require spandex to stretch. GOTS second tier certification is 'made with organic' which requires at least 70% of the product to be made with organic fibres and a maximum of 10% made from synthetic fibres, the remaining can be other natural but not organic fibres such as cotton.
The other organization certifying products is the Organic Content Standards (OCS) which only certifies standards on content. This means, that the organic fiber percentage is tested and traced but the process of making fibre to dyed and finished fabric is not covered. Therefore the use of chemicals or social environmental impact from the production process is not taken into consideration.  OCS also has two tiers – 'OCS 100' which requires 95% organic fibres and 'OCS blended' which  only requires 5% of the fibre must be organic.
To complicate things further, not all certification organisations are recognized by every country – for example in the USA only GOTS certification is accepted by the USDA (United States Department of Agriculture). In many countries laws don't cover labelling of content in apparel and accessories so the consumer is often left to decide for themselves. In Singapore laws that cover labelling of clothing are more concerned with safety of consumer goods.
Confusing the consumer
The apparel industry has a long way to go to improve the impact of  the fashion industry on the environment. To complicate matters, governments have not agreed on one international standard and as a result have different regulations and laws covering 'organic' textiles. Some smaller brands have responsible practices but find the rigorous and often expensive prospect of official organic certification not financially feasible.  Smaller brands who have transparent processes are an opportunity for the consumer to enquire further on their practices and sourcing of products.
To help you navigate the issue we decided to put together the:
 "5 Things to look for when choosing organic cotton"
Fair Trade – do not assume all Fair Trade is organic. Although some percentage of Fair Trade is organically produced, this is not always the case – so check for certification symbols (see point 4)

Colour – even your white or black t-shirt has had dye or bleach applied to it. Look for brands that use natural dye processes or herbal dyed organic cotton these days known as 'Ecodyed fabrics'. But many processes may use chemical dye fixing process which leads to heavy metal in the water supply. GOTS certified fabric tracks chemicals in the dye and the disposal process. (see point 4)

None Dyed Cotton – Unfortunately some experts say 'Natural dyes' are prone to fading over time after washing and and as mentioned above may use mordants in the process which can have metal toxins. To be sure your clothing is truly chemical free look for 'none dyed cotton' which is always off white to cream or beige in colour. More research is being done to develop natural dyed cotton which is known as colour-grown cotton because some cotton can be naturally brown, red green or yellow. However, natural cotton could be genetically modified so do check for organic certification as GMO cotton cannot be considered as organic under GOTS.

Print –  printing textiles includes emissions in the air, water and of course can end up in the soil either at the end of the garments life cycle or during the production process. Waste water is the biggest problem and leftover materials from printing called sludge must be disposed of responsibly. Some unscrupulous companies illegally dispose of waste dyes or sludge into the water system. Look for GOTS approved printing ink that check the disposal methods as most natural colour cannot achieve bright hues as yet.

Labelling –  probably the best method is to look for the GOTS symbol or Soil Association symbol (Soil Association were founding members of GOTS)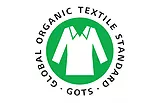 ---
Anisa Johnny
British born Anisa Johnny is our contributor to WEAR and Senior Lecturer in Fashion Marketing & Merchandise at Raffles College of Higher Education. She's also a retail marketing professional and has over 15 years of experience in the fashion industry.
Dragos Necula
Dragos Necula is co-founder of Etrican which creates casual, timeless GOTS Certified organic cotton apparel since 2009, making it one of Singapore's pioneers of sustainable clothing. He is also the founder of black & green, a boutique full range digital marketing agency looking to make a difference by helping responsible businesses increase their visibility online.