Sustainability is the 'hot' topic in fashion, and it shows no sign of going away any time soon.  However, the maintenance of "ecological balance" is not always the first thing that comes to mind when the latest collections hit the international runways.  The questions is how do we navigate this jungle and what can the consumers do to make right choices?
For the fashion industry, sustainability is the elephant in the room. The issue, which although championed by a few brands is only discussed in mainstream fashion press when a brand makes a chic offering using celebrity endorsers (H&M) or aims to raise awareness and buzz on the catwalk with a slogan T-shirt (Katherine Hamnet).
Sustainability is complex and can be overwhelming but one thing is certain and that is the topic will become more and more pressing as consumers appetite for new products show no signs of slowdown and middle class consumers from developing countries increase.  Evidence suggests that demand for clothing will continue to rise. In 2016, 95.1 million metric tons of Chemical and Textile fibers were made compared to 23.94 million metric tons in 1975. Society and fashion brands have to address the issue considering fashion's effect on 'people', 'planet' and making 'profit' using finite resources.
Fashion is second only to the oil industry in terms of polluting the planet. From dyes and waste water in the manufacturing process, polluting water sources, to C02 emissions from manufacturing and transporting goods across the globe. If you place the industry end to end from agriculture to final retail, Fashion is one of the world's largest industries relying on a vast global distribution network. Your t-shirt bought in Singapore could have started life in Mexico, manufactured in China, been packed in a Central European Distribution Centre before arriving at its final destination.  Fashion not only pollutes via transporting goods, it also takes away precious water required for irrigating crops or even drinking water. Cotton is known as 'the thirsty' crop and according to the Ethical Fashion Forum, a UK based organisation calling for industry change, the average t-shirt requires about 60kg of water with an additional 45kg in waste water.
Upcycling, Vintage & Leftover stock
There are some fashion companies making a change by developing new types of offers or novel business models to tackle the issue of sustainability. To address the landfill issue brands are using leftover fabric, unwanted or Vintage clothing. Vintage or unwanted garments can be upcycled into something new and more wearable and finally consumers are encouraged to be more sustainable by paying to attend Clothing swaps. Instead of ugly hand me downs you wouldn't be caught dead in, cool brands like Re/Dun.com upcycle old denim for a new generation. Model Erin Wasson fronted the campaign quickly becoming the cool girls secret. In Singapore Swapaholics which started to offer women a chance to purchase points and swap clothes with other like minded women. Sometimes they hold themed events with Designer clothing swaps or work with local fashion brands such as Covetella.com which rents gowns for ladies who attend lots of fancy gala dinners and don't want to wear the same dress twice.
Organic or Sustainable Textile Offer
Organic and Fairtrade pioneers like People Tree are well known to conscious consumers who cared about fashion's impact before it became fashionable. People Tree has been supporting communities in India and calling for a change in the industry since the late 1980s. Edun started by Ali Hewson, wife of U2 singer Bono is ready to wear brand launched in 2005 that shows at New York Fashion Week. The collection is sustainable and produced in Africa to promote trade in developing countries.  Edun is meticulous with managing its sustainable but luxury brand image owing to runway success and is currently owned by LVMH. Local brands in Singapore such as Zhai source their apparel from bamboo. The range of loungewear, is suitable for yoga, travelling or relaxing at home. One of the home-grown GOTS certified Organic women wear brands Etrician, Hunter + Boo among many provides stylish basics. The UK based Howie's supplies sustainable activewear for men and women giving sports brands like Nike a run for their money. In Singapore Touch The Toes sells sustainably produced yoga pants and mats made from organic cotton, bamboo blends, recycled or up-cycled materials.
Sustainable Accessories 
Sustainability is not just a topic for apparel but some accessories brands have developed interesting concepts using recycled material. Singaporean Jewellery brand Saught makes its collections of rings and bracelets from unexploded ordnance from Cambodia. Now known as Covenant the brand concentrates on wedding rings and fine jewellery. Emie and Eve is a high fashion jewellery brand that is sold online and in boutiques around SE Asia.  They source shrapnel from Cambodia supporting local artisans and profits go back to the community especially helping orphans. International handbag brand Bottletop.org sells luxury clutch bags made from old can ring pools by women in the slums of Brazil. The brand also works with communities in Kenya helping to fund Education projects and has many high profile, stateside supporters, from Hollywood to Fashion and Politics.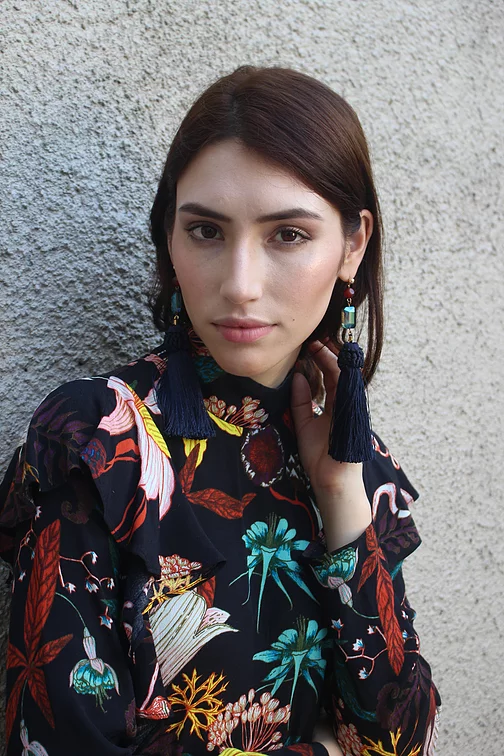 Fashion for good
Other brands that aim to use fashion for good include Social Enterprises whose sole aim is to provide a livelihood for those who may not have access to employment. Matter prints whose best selling trousers are easy to wear Dhotis or harem style pants. Hand block printed the brand partners with artisans in Rajasthan to promote and protect the local textile heritage.  Championing age-old hand loom process the company produces quality garments with timeless prints for a modern consumer. The brand has been so successful the 'pants to see the world in' have expanded to scarves, bags, tops and unisex lines.  Local jewellery brand Boheme Style Nomads create statement pieces made by single mothers who do not have access to employment. Their 18k and 24k plated gold jewellery make a statement with semi-precious stones such as garnet, jet and turquoise. Their 'Feel Good Jewellery' mission is to create a community of women who want to make their purchases count.
Better Made
Buying better-made garments at a higher price point can also help the planet. Built-in obsolescence adopted by not just the fashion industry aims to sell more to a public who have an insatiable appetite for new things. Products are made inferior on purpose in order for them to be replaced more frequently. Society, of course, pays for disposing of these goods thrown away by consumers. Fast Fashion brands recognizing consumers appetite for quick cheap catwalk copies that can be replaced by the latest thing and Zara for example is reported to update new collections every 2-4 weeks. Which considering traditional 2 seasons a year collections highlights how consumer tastes and behaviour has changed.
What Can You Do
Some educators like myself suggest that instead of consumers waiting for brands to change, consumers should take what power is in their hands and use their 'dollars' to make a change. Anyone who wants to take responsibility in the area of fashion sustainability needs to consider how they shop and where their money goes. This is what you can do:
– Take a look in your wardrobe and you will see usually the same 3 to 4 brands.
– Do some online research to see what you can find out about their sustainability practices.
– Sustainability as mentioned is quite a complex topic so pick a solution that resonates with you and support it.
– Perhaps replace your high street purchase with recycled garments, or commit to clothes swapping for a few months in place of buying from your favourite brand.
– Set yourself one achievable goal and a time frame.
– Write a Personal Sustainability Mission Statement.
To help you commit to your plan. Start the change as a trial to trick your brain into believing it is achievable. Carry out the change then review after your deadline.
To help you write your Personal Sustainability Mission Statement, try answering the following:
Which sustainability issue personally resonates with you?

What can you do about it?

How long can you try this new choice?

When will you review your progress?

When will you commit to change?
Good luck with your journey!