When you live in Singapore, one of South East Asia's most important travel hubs amazing destinations can be only a little as 2-3 hours away. We can spend a good deal of our time exploring the regions incredible landscapes and cultures or travelling for work. Apparel is central to our needs when on the go and considering weight restrictions and the convenience of packing lightly we decided to take a look at some of our favourite sustainable fashion brands and how they can enhance our trips whether long or short haul.  Whilst circumventing the globe don't forget to think about the planet and offset your air miles before or after you return home.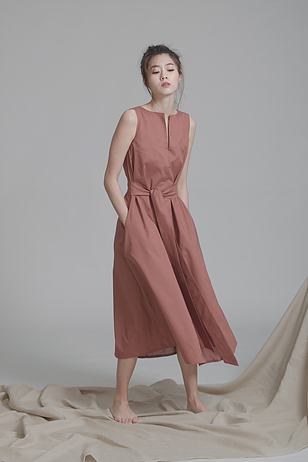 Esse Organic Cotton Dress
Alicia Tsi started her brand because she was fed up of cheap clothes that fell apart after a few washes. The entire collection is easy to wear and since most are made of tencel can be easily packed. We love the Organic Cotton dress which will come in 2 colours next month (dark dusty pink and cement grey). A nice silhouette and over the knee length the wide shape means the dress can be belted for formal wear or worn free for a casual style. Comfy enough to wear on the plane with a cardigan and leggings but structured enough in case you need to look presentable on arrival.
T-shirts from Source Collection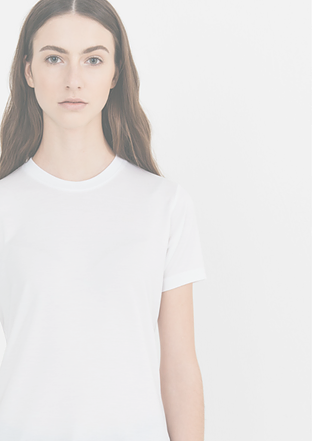 Their tencel T-shirts for men and women come in different neck shapes and most importantly with and without sleeves. Tencel is a man-made fabric made from wood pulp which is sustainable and is purported to be cooler than linen. The super soft t-shirts are a steal at $35 and the range of tees are breathable, lightweight and do not wrinkle easily which makes them perfect for travel.  According to the founder Vincent Ooi, the t-shirts do not build up bacteria and you can hand wash them during your travels because they dry so quickly.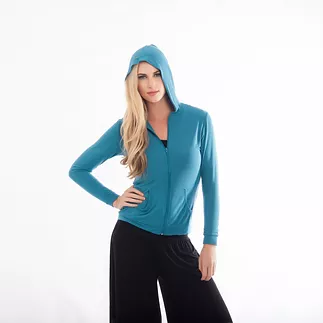 Zhai Hoodie
 With a wide collection of Bamboo clothing from dresses, shorts, cardigans to tops the items are all travel friendly because bamboo is natural fibre therefore breathable, absorbs moisture quickly and has odour free properties. Most items are light weight and fold easily and any wrinkles should drop out quickly. One of Singapore's first sustainable brands they are the go to for conscious clothing.  We could not make our minds up so we asked the brand who recommended their Zip Up Hoodie in storm blue as a great travel buddy. This item is such a favorite of staff and customers it has been repeated over time.
Touch The Toes yoga pants have become the favourite of the Singaporean sustainable consumer, especially for their Teeki recycled plastic bottle hot leggings. Not only are they good for sports, they can be worn on the plane to keep you warm + they are made to be worn in water so you can take them to the beach. The leggings are available in an array of eye catching prints or classic solid black, and you can dress them up for a night out which makes this item the perfect multi-functional item to pack for a leisure trip! The brand's personal favorite item they'd recommend for travel is the Youpi P'Owly Weighted Eye Pillow. It comes with 100% pure lavender essential oil – which helps to soothe your nerves and is a natural antiseptic. The cute weighted eye pillow with a sleeping owl's eyes design is hand crocheted by a family in Bali and can be put in the fridge before you leave. Great for tired eyes on a long journey.
Click here for sleep help from TTT – and here for the plastic hot leggins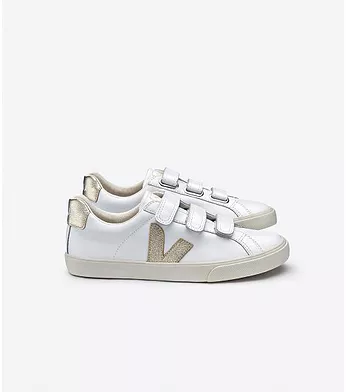 Veja Sneakers
 Available online Veja sneakers are made from ethically sourced materials and the website has free worldwide shipping at the time of writing so if you are a friend of comfort and style get their delectable designs before they sell out.  A source tells me you can also find the brand in our very own Tangs Singapore do contact the store to confirm they are still in stock.
Hunter & Boo travel accesories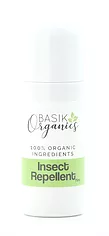 A kidswear brand becoming a fast favourite with local parents, Hunter & Boo's collection of casual clothes with modern and fun prints are made with the softest 100% organic cotton and eco dyes. The range of kids clothing is currently offered from 0 to 5 years old but they also provides teddy bears, cushions and blankets to keep the little ones warm or comfortable on your travels. Their Basik Organics Insect Repellent smells amazing and can be used on kids from 6 months old. The repellent is gentle on your skin and is 100% certified organic made with essential oils such as clove, sunflower, eucalyptus, lemon and lavender and comes in 75ml which is perfect if you want to carry onboard the plane.
Get that mossy-free trip at Hunter+Boo here.
These are a few of our favourite things. Do take a look at the brands we mentioned and find yours. Happy traveling!