Sustainable fashion brands are on the rise in Singapore and more local labels popping up all the time. But where do you find your eco friendly and ethical wear that is also born and raised in Singapore? Here's our top 10 selection – all with their own special feature!
Source Collections 
Emphasis on working conditions + styles for men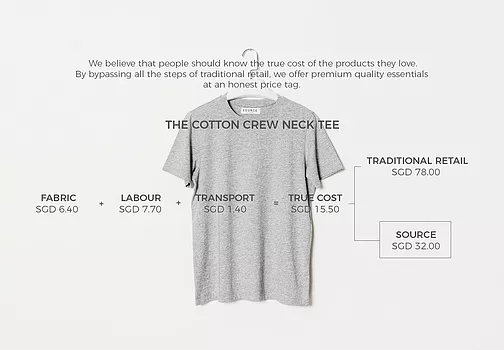 Source Collections are simple natural and renewable designs for both men and women. The materials are produced with the WorldWide Responsible Accredited Production certification, that provide safe and good working conditions for the workers. Source Collection's packaging is plastic free and any paper used, are made from responsible sources. You can buy their tees and tank tops online from their site.
Cosset
Breathable and cooling fabrics + underwear
Cosset has been around for the last decade and is known for it's breathable, comfortable and cooling sustainable fabrics. Made from bamboo fabric, the tops, t-shirts, dresses, skirts and underwear keep the shape for longer and with the durable materials, stay on your shelves for longer too. You can buy Cosset wear for men and women at 8 central locations and on Cosset's own site.
Zhai
Eucalyptus and bamboo pioneers
Zhai is one of Singapore's eco-friendly front runners. For almost 10 years, the fashion brand has offered comfortable tops, skirts and loungewear made out of natural fibres such as bamboo, linen and eucalyptus. The brand can be purchased online and at 6 central locations including the Zhai shop in Tanglin mall.
Baliza
Slow fashion with social responsibility
Baliza represents 'slow fashion', with timeless Bali inspired designs that take 8 weeks to make and only a few new added styles a year. The kaftans are made out of sustainable cotton with handcrafted details by artisans in Jaipur, India and provide work for 400 women and young adults. You can buy Baliza in their online shop.
OliveAnkara
Colourful and Sustainable Exotic Wear
OliveAnkara is the meeting point of African fabrics and modern fashion designs with an Italian taste. They blend these two cultures to make clothes for women of all colours. OliveAnkara production approach is oriented towards two main concepts: to be a so-called slow fashion brand, where quality and uniqueness are above quantity and mass production, and to always try the best to be as close as possible to the concept of zero waste.
Kalaia
Upcycled transformative wear
Kalaia was born three years ago, as a tribute to bohemianism  -which is very much reflected in the style of the creative and transformable designs. The label reuse and upcycle redundant fabrics into new styles in order to minimise wastage and footprint from reproduction batches. You can buy Kalaia's dresses, kaftan's, tops and trousers in their online shop.
Touch the Toes
Sustainable multi brands yoga apparel

Touch The Toes sell yoga apparel brands out of cotton and bamboo blends, but also recycled and upcycled materials. All TTT's clothes are sustainably produced, and if you like the soft tops and yoga pants, you can add an eco yoga mat to go with your outfit. TOT's shop in Haji Lane is now closed, but you can still buy the represents on their website.
Hunter + Boo
Colourful and creative kids wear
Founded in 2017, Hunter+Boo is an eco newcomer, but already a popular choice among eco-searching mothers in Singapore. The colorful kids collection include 100% organic jumpsuits, rompers, t-shirts and leggings up to 5 years and can be found at affordable prices in The Playfair at Suntec City Mall and online on their site.
Esse
Elegant designs with a longer life
Esse's sustainable philosophy is all about giving fabric a longer life – using garments made from renewable fibers that use less ressources and rescued fabrics that are leftovers from over-ordered or dead-stock fabrics. Esse's elegant dresses, trousers and tops are available from their site.
Matter
A label with a cause
Matter has been a label with more than one mission: to fostering designer-artisan collaborations, to inspire their customers to value the origin of the product and to be pioneers in changing the sustainable industry for rural textile communities. Unfortunately, the label is about to close, but you can still be a part of completing these missions, by buying their last jumpsuits, pants, tops and dresses online on their site.
August Society
Sustainable Swim Wear
August Society is a sustainable women's swimwear brand hailing from the shores of tropical Singapore. Made from recycled fabrics, our latest collections commit to doing better for our earth and oceans. They pair top-quality Italian fabrics with mix-and-match cuts and prints to enable individual expression and a perfect fit. Their collections include bikini separates, one-piece swimsuits, rash guards and beachwear.