Do you find that you are stuck in the same fitness routine, if any?
Are you getting equal amounts of cardio, strenght and flexibitly in your training?
After always doing just one thing, I'm ready to mix it up – and not just a little, but a lot! In fact, I'm going to test out 21 different types of fitness, in 21 days at 21 different locations. I will base the first week on cardio, the second on strength and the third on flexibility. Before I start, I will have my my body weighed and measured, to see what 21 days of intense training can do, and ever day I will write a diary of the different experiences around Singapore.
Perhaps this will inspire you to new types of exercise you didn't know were available and learn how to mix it up, and get a fitness routine that covers all the important aspects.
Background Mathilde:
I've been relatively sporty most of my life, and when I start something new, I generally go 'all in'. Now, because I do that, I also get bored quickly and after a couple of months, I want to start something new, again. In between that, there can be months where I don't do anything – like the past 3 months. This is not great for your body and takes you out of a healthy routine.
I'm doing this challenge, to see what else is out there – to see how a combination of different types of cardio, strenght and flexibility classes can give me a more stable workout that I enjoy for longer periods of time.
I'm not doing this challenge to lose weight, but after a break with no exercise, I look forward to becoming fit again, and curious to see what an hours excercise, every day for 21 days can do. This is why I've weighed myself and done the measurements.
In my past 4 years in Singapore I've tried outdoor bootcamps and indoor yoga and HIIT training – now I'm curious to see what else Singapore has to offer! Hope this will inspire you too! Read my diary here and make sure you check out our instagram and facebook STORIES to get some visuals on how i get on!
WEEK 3 – FLEXIBILITY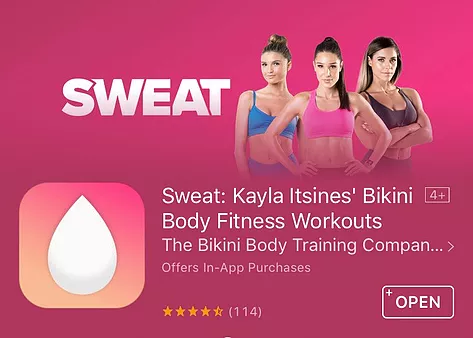 DAY 15 – Yin Yoga 1 – Sweat App
Instructor: Sjana Elise
Class Description:
Approx. 30 min. restorative yoga – Yin – possible for everyone to do, also those who do not have yoga experience. Sjana takes you through 15 exercises – all down on the mat – and up to 3 min. on each.
+tives:
– privacy – you can do it in your own home
– no equipment needed
– good basic yin exercises
-tives:
– only 1 free week – in app purchase
– no countdown, clock  or voice on exercises
– no overall timing on how long the class will take
DAY 16 – Insomnia Yoga  – The Yoga Co
Instructor: Mayy
Class Description:
This class was tailormade for www.fitnessfest.sg and is not available at Yoga Co.
The 45 min class went through a range of yoga positions + pranayama breathing exercises.
+tives:
Having worked for 14 hours at Fitnessfest.sg when doing this class, a review on this class will not be objective (too tired ;-). We will come back and do another class at Yoga Co and replace Insomnia yoga in the review.
Thumbs up for scheduling this class though!
-tives:
723A North Bridge Rd, Singapore 198691
Enquiries: [email protected]
Bookings: theyoco.com/booking
Also at East Coast.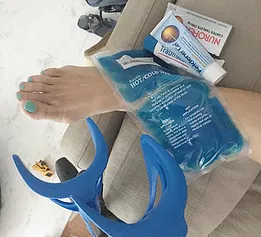 DAY 17 – Sprained ankle
A fall and twist while exiting a restaurant, turned into a sprain and a class today was therefore not possible.
DAY 18 – Bosu – Como Shambhala
Instructor: Pek Yew
Class Description:
BOSU (Both Sides Utilised) Balance Trainers is a half dome inflated accessory that is a omplement to any sports or core training. Applying the alignment principles of Pilates, it provides a full body workout that challenges balance, flexibility and strength.
Pek Yew did a full body workout by using the BOSU for sitting, standing and horizontal exercises. We worked through leg lifts, plank, seesaw, squats and standing warrior – all on the Bosu.
Because of the sprained ankle, I participated in approx. 50% of the class.
+tives:
– The Bosu gives you an extra challenge and is fun change
– Trains your balance
– Small class
-tives:
–
COMO Shambhala Urban Escape, Singapore
402 Orchard Road
#06-01/02 Delfi Orchard
Singapore 238876
Tel: +65 6304 3552
Fax: +65 6304 3512
Email: [email protected]
Day 19 – Pilates Mat – AlphaBalance
Instructor: Lisa
Class Description:
Pilates is an exercise system that focuses on building strength without bulk, improves flexibility and agility, and helps to prevent and rehabilitates injury.
It involves a series of controlled movements that engage both your body and mind and it utilizes specifically designed exercise apparatus. The primary focus is on awareness of the spine, proper breathing, core strength, flexibility and alignment.
Pilates Mat took us through a wide range of both standing and mat positions, using the circle to push ourselves further into the positions.
+tives:
– small class, great invidual coaching
– circle made class more varied + made you push yourself more
– beautiful private house
-tives:
– No sign posting on location
AlphaBalance
22 Fifth Avenue
Singapore 268785
Email: [email protected]
+65 6602 8154
Other locations at :Duxton, Singapore Polo Club and East Coast park
Day 20 – Floatfit Yoga – Skyline Aqua
Instructor: Riane
Class Description:
The Floatfit Yoga is a Vinyasa yoga session on water.
Merging breath and movement to strengthen the body and mind
Increase flexibility, mental focus, cardiovascular conditioning, calorie-burn and muscle development
Improves sleep, reduces stress and anxiety
Floatfit Yoga is a half hour session, where you start off with simple yoga posititions that increase in difficulty.
+tives:
– small class
– great balance practice
– beautiful location
-tives:
– Noise at the bar by the pool
Skyline Aqua
7500 Beach Road
ParkRoyal on Beach Road
Singapore 81000829
Day 21 – Flexy – Milon Pole Dance Studio
Instructor: Riane
Class Description:
Classes range from Levels Basic to 4. All classes are 60 minutes. Instructors follow a weekly schedule incorporating turns, lifts, tricks and combinations to gain strength, flexibility and self-confidence. Milan Pole Studio provide a mix of term and term-free schedules; each class will be progressive.
Flexy prepares you for the Pole exercises by doing deep stretches and pushing your flexibiltity.
+tives:
– super stretch
– great location and teacher
– prepares you for a different and challenging sport
-tives:
Milan Pole Dance Studio
18 Tech Lim Road #03-01
088390 Singapore
Also a studio at Bukit Pasoh