When you're active, eating right is essential. But what type of foods make you energized for your training and what fuel do you need after your workout? Charlotte Dall gives you the lowdown AND the recipe for a super tasty pre-workout brekkie!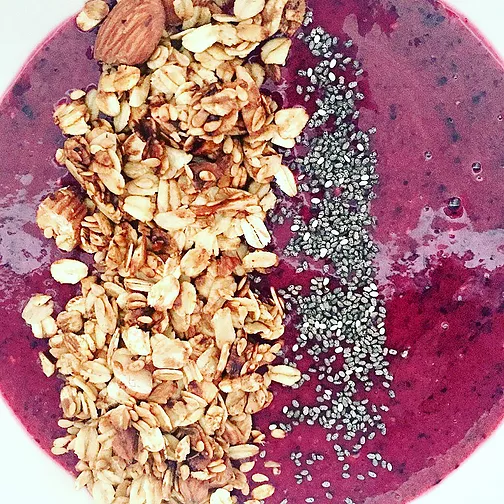 During a workout, especially one involving strength training you are breaking down muscle and creating small micro tears so your body needs protein to start the repair process. It is best to fit in a meal within 30 minutes after your workout to maximise the nutrient absorption and get the muscle repair going. It will be best to eat a complete protein (a complete protein is a protein that contain all the amino acids, our body`s  building blocks) such as, meat, poultry, seafood, eggs or dairy or one from the few non – animal sources such as, soy beans, blue green algae, hempseed, buckwheat or quinoa. Or you can combine two or more incomplete protein and "voila" you will have a complete protein; Eg Humus, veggies and whole wheat pita, or red beans and brown rice or crackers with nut butter and seeds.
When it comes to working out its important to feel energised,  I suggest a couple of hours before your workout to eat a meal that is a mix of carbs, protein and fat. If you workout closer to a meal, I suggest you focus on the carbs with just a little bit of protein, more as a pre workout snack, the mix of protein and fat will help you feel satisfied and fuelled during your workout.
Always remember to stay well hydrated before, during, and after your workout especially when working out here in the hot and humid Singapore climate.
A good energiser boost, is a blueberry and banana bowl top with homemade almond, oat and quinoa granola – have it before your next workout and you will feel light and energised!
BLUEBERRY – BANANA- BOWL
1 cup frozen blueberries
1/2 ripe banana
1/4 cup unsweetened coconut water
2 tbsp Greek natural yoghurt
Place blueberries, banan, coconut water and yogurt in a blender or Nutri-bullet and blend until smooth. Spoon into a glass or serving bowl and top with the granola.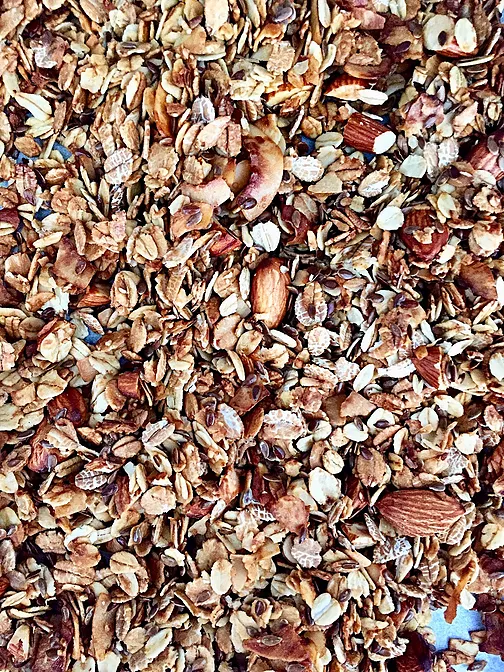 ALMOND – OAT- QUINOA GRANOLA
2 cups rolled oats
1 cup raw almonds, roughly chopped
1/2 cup flax seeds
1/2 cup unsweetened coconut flakes
1 cup white quinoa
1/2 cup quinoa flakes
1/2 tsp ground cinnamon
1 tsp sea salt
1/3 cup coconut oil
1/3 cup maple syrup
1/4 cup freshly squeezed lime juice
Preheat oven to 150. Place oats, almonds, flax seeds, quinoa, quinoa flakes, cinnamon and sea salt in a bowl and mix to combine. Mix lime juice with coconut oil and maple syrup and add it to the almond-oat mixture, mix well to combine.
Spread the mixture onto a baking tray lined with non-stick baking paper and bake, tossing occasionally for 40 minutes, or until light brown and crispy. Allow to cool on a tray. Store the granola in an airtight container.