Making your own natural skincare products is the fun part of switching to a green, sustainable lifestyle. Not only are you able to customise what you make to your individual skin type and goals – you can also be confident that you are getting exactly what you put in. And not having to worry about nasty ingredients creeping into your products can really take a load off your mind!
Body oils are one of the easiest product to make and if you're new to this, we'd recommend you start here. The beauty of body oils are their versatility – use them also as a massage oil, bath oil, makeup remover, hair treatment oil, shaving oil and cuticle oil. And if you can pour oils into a measuring jug, you already have the expertise to make your own.
Ready to get started? Here's a simple body oil recipe that is suitable for all skin types: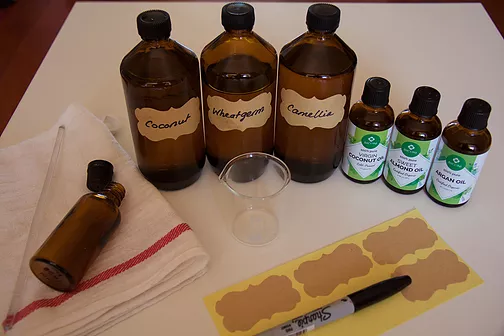 Makes: 50ml
15ml Virgin Coconut Oil
25ml Camellia Oil
10ml Wheatgerm Oil
Method:
Arrange all your ingredients and utensils before you start.
Using a clean measuring spoon, measure out all ingredients individually and place them in a bowl or beaker.
Pour all oils into a larger bowl or beaker and gently stir for a minute to thoroughly mix all ingredients.
Optional: Drop in 5 drops of your favourite essential oils and blend with your body oil.
Bottle and label.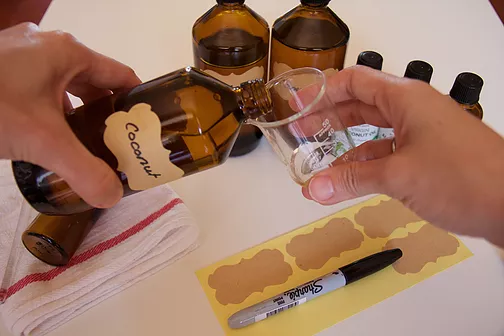 Have everything ready before you start blending your body oil. And remember, when working with oils, things can get oily – so be sure to have kitchen towels within easy reach.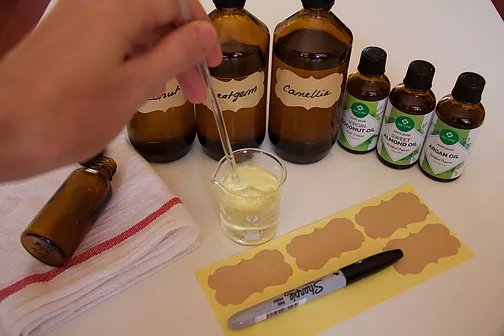 Pour all ingredients together and gently stir for a minute. If using, add in 5 drops of essential oils and stir once more.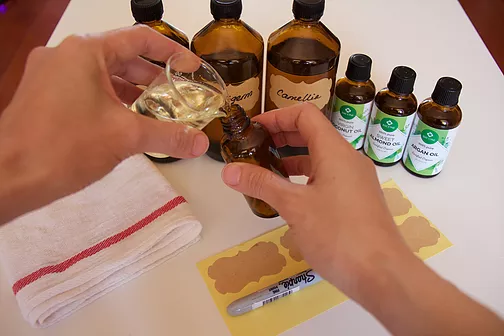 Bottle your body oils and label.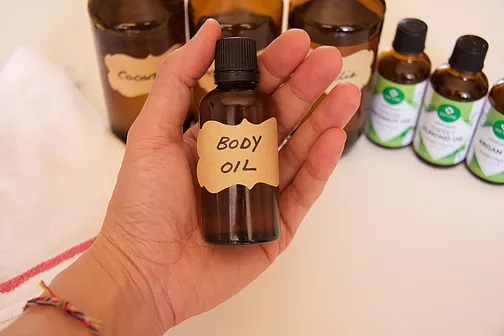 Done! Your customised body oil is now ready to use.
Tips:
It is important to keep all ingredients separate until you're ready to blend. This will help avoid over-pouring – something that's is quite easy to do, given the small amount you'll be using for each oil.
Everything that comes into contact with your oils should be clean and thoroughly dried. Water is the biggest enemy of natural products and can lead to contamination.
If you choose to add essential oils, be sure to add no more than 10 drops per 50ml to avoid any adverse reactions.
Storing your oils in a dark brown, amber glass bottle will help to preserve your oils for longer, when compared to a clear glass or plastic container. This is because amber glass bottles will help to filter out UV rays, a contributor of oxidation.
When not in use, keep your oils in a cool, dry place away from direct heat or sunlight to help prolong its lifespan.
You can easily double or triple this recipe by following the same proportions.