For many a new year is a new beginning and a time to feel focused with a clear mind and become energized – all while you want be in a good mood and relaxed with your surroundings! HELP?
Yes, not an easy tasks, but perhaps just choosing one can make a difference, or by doing one at a time, you can get there. And of course, we will help you, by offering great and easy recipes + health info that will that boost energy, mind, focus, mood and help you relax.
One power shot a day this week – think of it like opening an advent calendar in January – just the goal is greater, healthier you. Enjoy!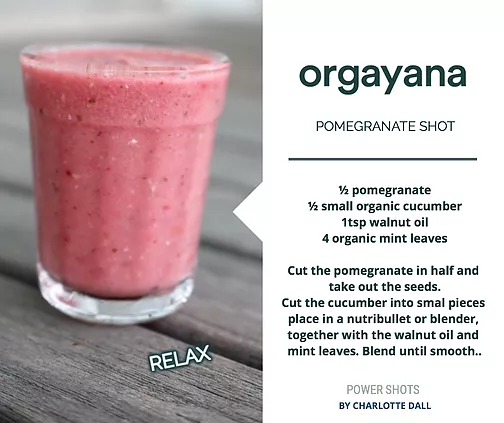 RELAX
There is nothing worse than going to bed early, but lying wide awake for hours on end. If you've been jet lagged, you might have tried Melatonin pills, but they can actually also be found in foods.
Melatonin is a hormone produced in the brains pineal gland and it is revolved in regulating sleep and maintaining the bodys natural time clock. Cherries, corn, asparagus, pomegranate, peanuts and cucumber all help to you raise your melatonin levels in your blood.
Tryptophan is an essential amino acid that acts like a "natural mood regulator", as it has the ability to help the body produce and balance certain hormones naturally. Tryptophan rich foods helps bring on natural calming effects, induces sleep and even fight anxiety and can be found in nuts and seeds and most meats.