For many a new year is a new beginning and a time to feel focused with a clear mind and become energized – all while you want be in a good mood and relaxed with your surroundings! HELP?
Yes, not an easy tasks, but perhaps just choosing one can make a difference, or by doing one at a time, you can get there. And of course, we will help you, by offering great and easy recipes + health info that will that boost energy, mind, focus, mood and help you relax.
One power shot a day this week – think of it like opening an advent calendar in January – just the goal is greater, healthier you. Enjoy!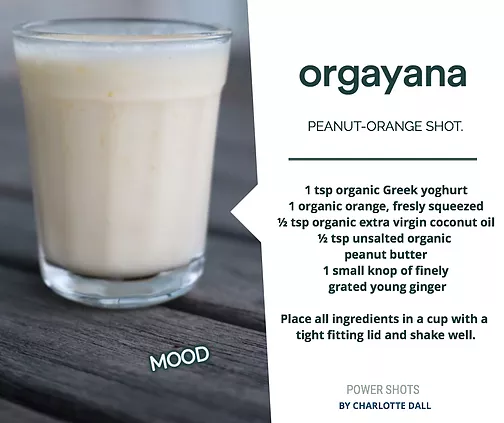 MOOD
This probably won't come as a surprise: our bad moods are affected by hormones!
Hormonal imbalances, particularly if you have more oestrogen in relation to progesterone – are to blame for the physical and emotional troubles with PMS. As many of us women know, this is the baddy, when it comes to mood swings, tiredness, water in our bodies, tender breasts and headaches.
But hey, there's help! Foods high in calcium has been shown to improve mood swings, bloating, cramps and food cravings all asociated with PMS.
– Vitamin E, found in nuts, seeds and vegetable oils can benefit the menstrual cycle-related breast pain.
– Foods rich in essential fatty acids helps balance hormone levels, and
– Vitamin B6 (found in peanuts and peanutbutter) helps to relieve the water retention that is associated with the symptoms of PMS.
Also magnesium foods are like the calcium-rich foods our good friend during PMS, as magnesium helps regulate serotonin, one of the "feel good" chemicals in your brain. So, getting extra magnesium may help lift your mood and if want an ingredient that is rich in both B6 vitamin and magnesium – have peanuts and peanut butter – they are rich in both!