"I bought too much", "the food is going off!", "I have to throw food out, I can't use everything!"
We all know how it feels, the throbbing conscience when throwing out food that could have made use in our tummies with a little bit of planning and thought put into it. Our TheGaiaHood mama has given herself a challenge: How to use every ingredient in her food delivery, down to the bone!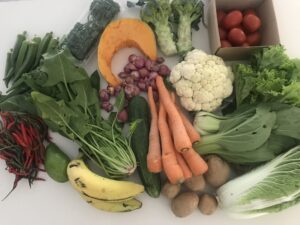 Monday
This is a picture of the box I received on Thursday. I do not normally receive a box on Thursday but on Tuesday. When I receive a box I always plan what or when to use the items depending on how long they will last. For instance, I use broccoli the same day or the day after.
It is part of my DNA to avoid any food waste. That is how I have been raised as a child. Luckily I do not have the ability to follow a recipe since I always add something extra or I substitute an ingredient with something else that I already have en my fridge. I do not even think about it is just something I do. I like to experiment in a kitchen and use my senses.
My mantra in the kitchen is to look at the food, smell the food and touch it. I let my senses determine whether an item is good or bad. For instance, carrots and cauliflower can become soft in the fridge but I just fresh up the vegetables by soaking in cold water for a few hours and they will be as good as new.
We are not vegetarians but we try to eat fish every week and eat a few meat-free dishes. A good healthy dressing with olive oil, vinegar/lemon/lime and garlic can save many salads. I grow herbs such as mint, basil and rosemary on my balcony, which I use to top up many dishes.
Since we receive a box tomorrow this evening we have just eaten leftovers from the weekend. I still have spinach, bok choy and carrots left from last week. I am planning on using leftover vegetables during the week.
Tuesday
I am planning to make a fresh noodle salad for Tuesday. This gives me an option to use what was left from last week and if there are any items from the new box that should be used right away.  This point in time I have not planned our dinner for the week even though I have received a notification with the ingredients of the box, but I would like to see the ingredients before I do the planning.
I know that I will do a dish with fish during the week and minced beef since I have a 3-year-old and it is a good way to camouflage a lot of vegetables that he does not normally eat.
Let us begin.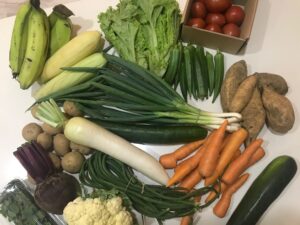 I managed to make noodle salad for our Tuesday dinner where I used last weeks bok choy, tomatoes, carrots and mint and spring onion from this week.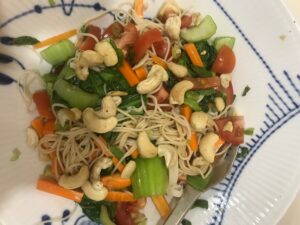 Wednesday
A very healthy Wednesday where I used carrots, beetroot and Japanese radish grated into a salad. I still have some radish and beetroot left.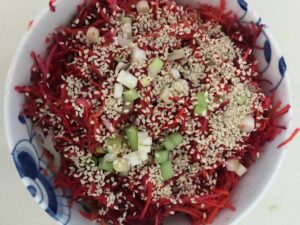 Furthermore, I made chicken meatballs where I added carrots some of last weeks spinach, garlic and onion.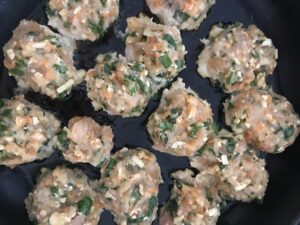 My 3-year-old ate meatballs with rice and carrot sticks.
Since this is a challenge I will compost all my leftover cut-offs from the vegetables.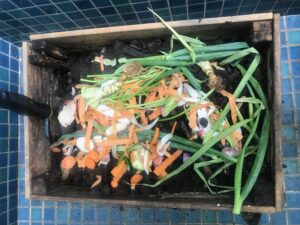 Thursday
Today I made a classic lasagna but to the meat sauce, I added grated carrot, zucchini and broccoli stark I had staved in the freezer. Grating the stem of the broccoli and put it in a meat sauce is a good way to get essential vitamins and nutrients from the broccoli and wasting food.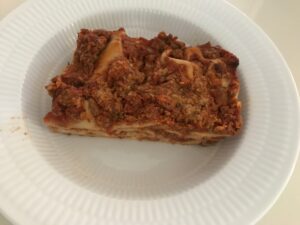 Friday
I made myself a bean salad for lunch where I used: kidney beans, mug beans, green beans, okra, cucumber and cashew nuts. I never mix lettuce into a salad like a bean salad since I know there will be leftovers and I wait added the lettuce to my plate. Otherwise, the lettuce will become soft when stored in the mixed salad. I always top a salad with some homemade dressing such as olive oil and vinegar.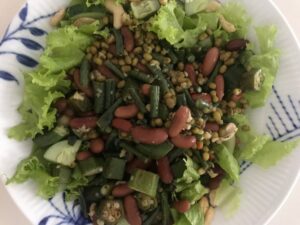 For dinner, it was only me and my child and we just ate lasagna leftover and I some more bean salad.
Saturday
For a stay at home Saturday dinner I made a pasta sauce out of cooked cauliflower where I also added some miso, garlic, olive oil and basil. Everything was topped with fresh tomatoes.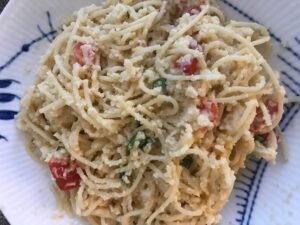 Sunday
I like to make a salad for Sunday brunch. Hence it was really easy to fix up the bean salad with some lettuce, tomatoes and cashew nuts. The remaining beetroot I also cocked and made a dressing out of honey, olive oil and some cider vinegar. A nice brunch with some freshly baked bread.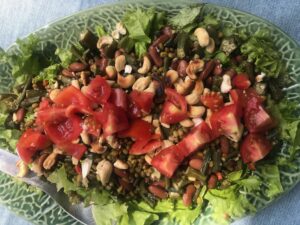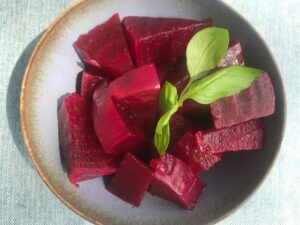 Sunday dinner is empty the fridge. I boiled the potatoes and smashed them a little added garlic, olive oil and cheese and banked it in the oven together with some fish. This was eaten together with a salad of grated remaining carrot and Japanese radish and with corn on the side.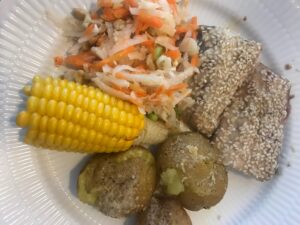 Our fridge is now empty except for some sweet potatoes, which I have no problem saving for the coming week. The pasta is my Monday lunch leftover.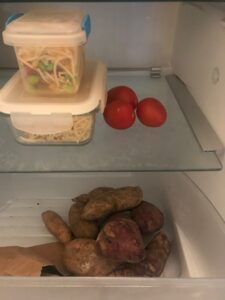 Learning points:
Have a day or two a week where you eat leftovers
Do always keep lettuce separate and not mix it into a salad
Do not be afraid of trying new foods
Google recipes for inspiration but substitute with items that you already have