For many the concept of recycling in Singapore can seem like a jungle and often attached to urban myths like "Singapore does not recycle", "All the trash ends up in the landfill" and "No point in separating your trash, it all ends up in the same place".
Understandably, as you will find areas with many bins for separating, some with just the blue bin, and some places that don't have recycling bins at all. So, is there recycling in Singapore? – and if so, how does it work?
Well, to answer the first question, yes there is, but it's done on an assembly line, which means that your 'separate' recycling bins
(such as bins for paper, plastic, glass, cans) all end up in the same place. On the 'recycling line', recyclables are separated from non-recyclables. Separating the recyclables in the allocated bins might seem pointless, but works as a way to educate us, so that recycling can be made more effective in the future. *in Denmark, people separated trash for 10 years, until it was put to actual use.
the blue bin for recyclables (located in most HDB's, condo's and houses in Singapore) you will need to know what can and what cannot go in them.
THE BLUE BIN
PAPER
YES: All types of paper and carton apart form

NO: tissue paper, paper towels, toilet paper, contaminated packaging paper and disposable chopsticks
PLASTIC
YES: Plastic bottles food and beverage, shampoo, wash bottles – SHOULD BE CLEANED

YES: Plastic bags, wraps, packing, hangers, cd-cases – but NOT BIODEGRADABLE BAGS AND OXO)

NO: Polystyrene foam products, plastic disposables, plastic packaging with foil, straws, cassette and video tapes, melanin products.
GLASS
YES: Glass bottle – drink, food, cosmetic and medicine and glassware  – PLEASE RINSE

NO: Borosilicate or Pyrex glassware, windows
METALS
YES: Metal cans, drink, food, aersol, can, bottle cap, aluminium tray or foil, paint can – PLEASE RINSE
OTHERS / NO:
Food waste

Leftover medicine

mirrors (donation possible)

ceramic products (donation possible)

lightbulbs (donation possible)

Household batteries (rechargeable – donation possible)

Old clothes (Good condition, donation possible)

Stationery (pens and pencils in good condition, donation possible)

Luggage bags (donation possible)

Bulky waste – furniture etc (donation possible)

IT Accessories (donation possible)

Electronic waste (donation possible)

Plant and horticultural waste (donation possible)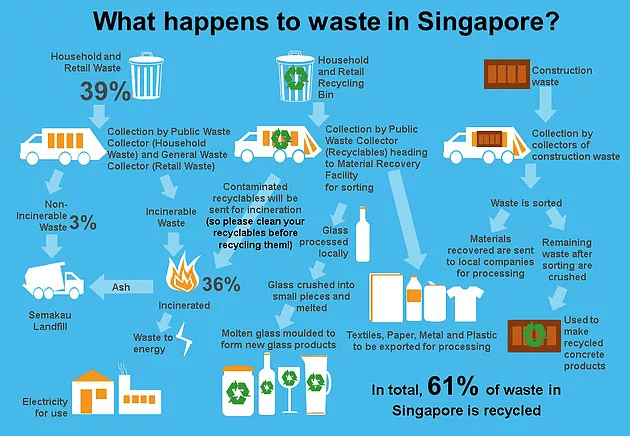 PLASTIC NUMBERS
There are many types of plastic and it depends on the country which plastic is recyclable. Journey to Zero Waste Life in Singapore have put together this list for what plastic numbers can be recycled in Singapore, based on info from NEA: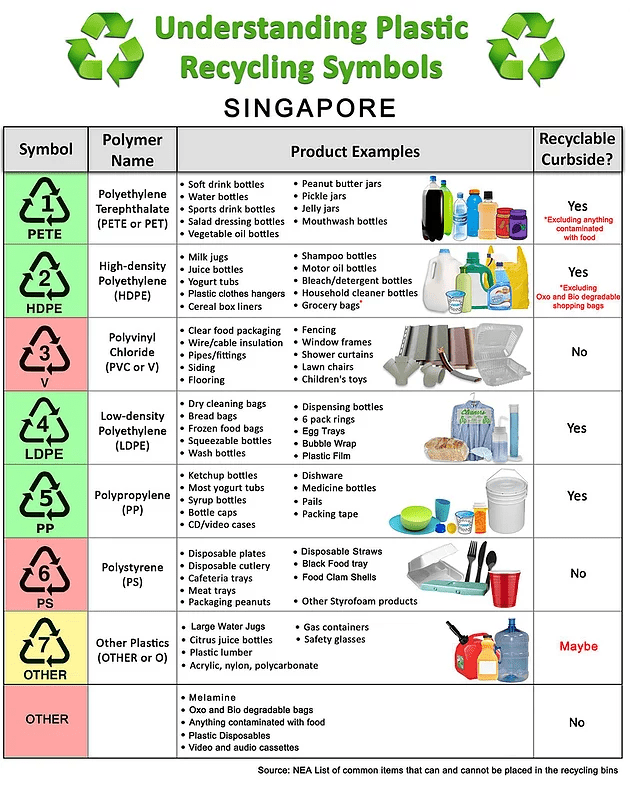 Mixed materials would generally fall under 7) eg. plastic lined with metal.
Milk cartons with Tetrapak lining is not recycled in Singapore, unless you can find a specific Tetrapak recycling point.
RECYCLING & DONATION POINTS and FREECYCLING 
There are also several independent recycling points in Singapore, places where you can donate (see which items under 'the blue bin' above), and web communities where you can donate your things, also called freecycling.
REDUCE BEFORE RECYCLING 
Although Singapore does recycle about 60% of its general waste (see this video to see the sorting process), reducing is more important than ever.
Just look at these facts:
Plastics was the largest category of waste disposed in SG last year – 763.000 tonnes  – only 6% recycled

Each person in Singapore uses an average of 146 plastic bags a year

That is 820 mio. plastic bags per year
– covers an area like Gardens By The Bay's 126 times.

Plastic per capita has increased nearly 20% in the past 15 years

No bans or charges on plastic bags or single-use plastic items are planned for Singapore.

Semakau island – where non-recyclable incinerated trash goes, looks like it's filling up 10 years faster than planned
Incinerated trash gives us energy, but is not a sustainable solution as we are burning off our natural resources that are running out and the fumes are harmful to the environment and the people. Also you have to bear in mind, that countries like China do not want to buy recyclable plastics anymore, which will make it harder for Singapore to get rid of the recyclable waste.
See how you can reduce your waste on the go and at home HERE