Whether you're vacay- or staycationing with your family – this is the one for you!
We all miss going on holiday, and nothing better than to share your holiday with your loved ones! No doubt we're all dreaming of loving, relaxing, peaceful and memorable family moments which (ideally) will make us forget our stressful lives as they are for many right now. Unfortunately, reality quite often ends up different from the dream, and the holiday moments become memorable for the wrong reason! Hungry, tired, bored or overstimulated children who end up having a wild temper, which affects the parents, who then become frustrated and annoyed.
So. What can you then do to make your family holidays enjoyable for everyone? Here are a few tips that can help manage challenging situations when travelling:​​
If you're lucky to be able to fly at present – choose night flights for long-distance travel, especially with young children: they will eventually sleep, although late, it will leave you with more time to rest and make your travel experience smoother.

If travelling with a baby, make sure you book seats that come with the bassinet option, so that both baby and parents can rest for a few hours. Are you on a train or boat, book that extra seat if you want to be able to relax too!

Before boarding the car, train, bus or plane, encourage your children to be physically active as this will help them get rid of some of their motor impulses, for while at least, and this will limit their need to move a lot.

If travelling with a baby or small toddler, use a comfortable baby carrier so that your hands can be free to carry bags during the transport to your destination.

Encourage toddlers and older children to carry a small backpack with some of their best things that you know will keep them entertained for some time. The added bonus is that in that way you won't have to carry everything and it will foster a sense of responsibility with your child.

Bring one or two full change of clothes for your baby/toddler and for yourself on the journey: if anything happens, you or your child won't have to carry bad smell or wear wet clothes for your remaining travel time.

Recent inventions, like Inflatable pillows or suitcases transforming into a bed are convenient to create a space for young children to sleep but if flying, check first with your airline company if they allow these kinds of equipment.

Check with the airline or train company, if you can order a specific meal for children, and if they can serve it when it's more convenient for you, e.g. earlier if a night flight.

Make sure to pack a bottle or easy sippy cup for young children to have water available anytime in the plane.

Pack healthy snacks children can enjoy: small size snacks can keep toddlers' hands busy for a while.

Avoid sweets full of bad sugar and colourings: some kids react really badly to some of those, and all kids become high on energy after eating sugar. Natural sugar or healthy snacks are preferable.

Offer new (and quiet) toy/games such as stickers, books, board games, card… When travelling, novelty brings dopamine to the brain, keeping children interested in the activity/object for a longer time in comparison to a known toy. Feeling bored is actually not a bad thing for a child, but it might create unwanted behaviours in a specific unfriendly environment like a car, bus or a plane.

Prepare songs and stories to listen to on your tablet or phone, as well as comfortable earphones adapted to children's heads, to avoid your kids requesting to put their earphones back on every other minute.

If at all possible, avoid screen time for the kids. It is stressful and the blue light keeps the children awake and their energy high. Obviously easier said than done, especially for older kids and during a long flight.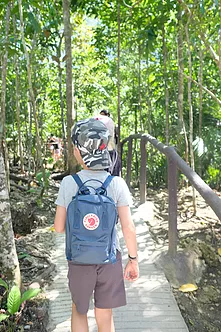 Above are tips that can ease up the family travel experience, but the best way to travel in peace, is to for the adults to get mentally ready for it and come to terms with the fact, that travelling is not an easy thing for children, requiring a lot of patience and impulse control.
So, relax, be prepared, and enjoy whatever happens, these might be your best anecdotes for years to come!