10 years ago, Australian banker Andrew Dixon had a dream. The dream was to build a sustainable private island from scratch and show the travel community that in order to obtain a perfect holiday you do not need air-con, a tv or an a la carte menu. Anyone sceptical about this idea was proved wrong, and today Nikoi Island and its sister island, Cempedak, are sold out a year in advance – when not haunted by Covid of course. The getaways have received several awards and praising reviews in prominent media all over the world – so much so, that Cempedak even made the list for potential honeymoon options for ex-royals, Harry and Megan Markle.
But how do you create a success that is both environmentally sustainable as well as financially? We asked founder Andrew Dixon what choices were made before and during the making of Nikoi and Cempedak Island – but first, the story on how Nikoi was originally intended as a getaway for a couple of families:
So how did Andrew Dixon make these choices for Nikoi? Was it because it was a financially sustainable solution or because of the desire to do better, for the community and the environment? He's a fan of both, see here:
There are a lot of examples of both financial and environmentally sustainable solutions on Nikoi and Cempedak, and one that stood out from other barefoot luxury destinations, was the lack of air-con in all villas on both islands, says Andrew Dixon.
"The air-con one was slightly controversial because it's pretty much a defacto item in Asia and most people would expect to have it. It is noticeably cooler over there than e.g. Singapore, so it can actually be quite comfortable with the fan on as well. Once we had enough people see and experience it, I think we had enough people realise that you didn't really need it, and it was actually nice to be able to hear the ocean at night. It's not everyone's cup of tea, but the people who love it, love it and keep coming back. I'd much rather focus on a niche than try to cater to everyone, and I think that's the problem that many hotels try and do. We're a niche, and we're quite happy for us not to appeal to a certain segment of that market and stay focused on that".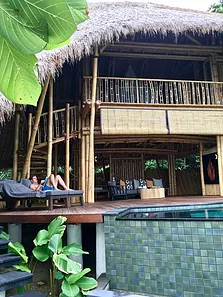 Having already tried out sustainable solutions on Nikoi, Andrew and his team wanted to take it up a notch, when they began the work with their second adults-only island, Cempedak. They added private pools to all the villas and used all new building material throughout all the villas and buildings.
"The new building material we decided on was bamboo, because it's sustainable, but also because it's amazing what you can do with it – its ability to create different architectural forms is very unique. Our architect brought in bamboo specialists who knew what you can and can not do with bamboo and in that way we had a good mix of people were able to design the properties more sustainable than what we'd done before." 
And everything IS more or less sustainable in Cempedak, only when building the base of the villas, did Andrew and his team have to compromise. Cement was necessary – but even here, they thought of a sustainable solution:
"We always try to reduce consumption, but inevitable we serve wine in our restaurants and end up with a lot of glass. And as there are no recycling facilities in Bintan, we were trying to look for a solution on what we could do with the glass? So we found a machine that could shred it into sand, which makes a very strong cement – a great way to repurpose the cement"
Although there might be more islands on the cards, for now, Andrew and his team are focusing on adding value to the existing two. The latest is the farm: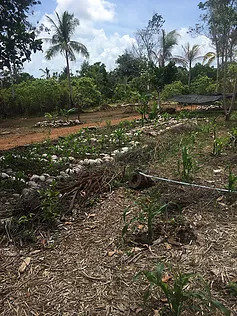 "The farm is pretty exciting, we have access to a 7 ha site that was originally a farm that belonged to the family of one of our staff, but the father died and the place was abandoned. Whilst the property was very overgrown it had lots of well established and interesting fruit trees as well as an old farmhouse without a roof on the site that we've now fixed up. We wanted to farm organically and have decided to farm using the principles of permaculture. We started by cutting the scrub and laying it out in swales to help retain moisture in the soil, and have then been layering up the soil using mulch. We brought in 50 chickens which we are feeding the black soldier fly larvae that come from the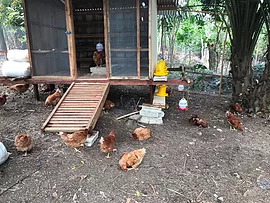 food waste processing system we have on Nikoi and Cempedak and another 200 chicks have just arrived. We also have ducks, geese and goats – the latter we plan to try and milk so we can make our own cheese, and we have built a small pond which is hooked up to an aquaponics system to grow lettuce and other salads. In our garden, we have heirloom tomatoes, kangkung, corn, cucumber, chilli, eggplant, citrus, mango, jackfruit, Chiku, and rambutan and have plenty of small gardens that are already getting lots of produce having started this only six months ago".
—
Also, hear Andrew Dixon's view on what it takes to be a sustainable destination today and what the trends are within green travel. Hear the rest of the interview on our podcast:
Come on a tour of Cempedak Island here
This interview took place in 2018.