Every Chinese New Year, we don new, bright-coloured outfits, in hopes of having a fresh start, and to attract good luck and prosperity for the year. Yet, as the effects of the fast fashion industry on the environment become increasingly apparent, one may wonder if we can start afresh during CNY in a way that does not involve demanding more resources from our planet? Can something "old" to you mean something "new" to someone else? 
Here's how the team behind @backtogroundzero got all our CNY outfits sorted by organising our very own Christmas Clothes Swap Party! It's as easy as a pea, cheap (free new outfits!), and most importantly, it reduces our demand for new clothing from the fashion industry. 
Step 1:
Make fun e-invitations detailing the rules of your clothes swap! You can have the swap basically anywhere, depending on how many people you'd like to invite. We had ours at one of our homes and invited a bunch of close friends. Make sure you consider your friends' clothes sizes when you send out invitations, you don't want anyone to feel left out!
Step 2: Prepare some light snacks to fuel the swap. In line with the Christmas theme, we served homemade vegan Christmas food. Featured below is Xue Ying's tantalizing vegan Christmas roast with gravy. 
Step 3:
Hang up and organise the clothes, either into categories (e.g., work vs. casual vs. athletic, tops vs. bottoms vs. dresses), or by person! This allows participants to find what they are looking for more easily. We played light, breezy background music during the swap so our friends could pick outfits, dance and prance around. Who says swapping has to be a serious affair?
Step 4:
Have a "changing room". This can just mean a bathroom with a mirror, preferably full-length. This gives your friends to try on outfits and to mix and match various swapped items.
Step 5: Bring a huge reusable bag to bring home all your swapped clothes! Trust us, you'll need at least one, or even several bags to bring home your loot. For clothes that were left un-swapped, you can donate them to second-hand stores (e.g., The Kint Story) or to charity organisations (e.g., The Salvation Army, New2U). We shared the joy by giving out some of the clothes to the domestic helpers within the neighbourhood as well.
Step 6:
Take cute and fun photos of your new swapped outfits, post them on social media and spread the word! Here are some of ours:
SWAP AWAY! Tag us at @backtogroundzero on Instagram and show us your swapped CNY outfit. 
With love,
Xue Ying, Yu Xuan & Maria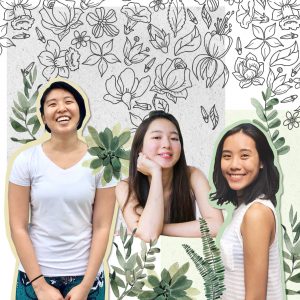 Hello! We're @backtogroundzero, and we're a group of 3 girls with a vision to unite the sustainability community, and to raise awareness about leading a minimal waste, plant-based lifestyle in Singapore. We're made up of @ximplyxueying, @y_x__ and @mariaubergine. When we're not vlogging our challenge series (#BeanDareDoneThat) or planning for the upcoming Ground Zero Festival 2019, we can be found sweating at yoga/barre classes, or pigging it out at vegan potlucks.