When eating the 'paleo' way, was recently (re)introduced, men in particular were clapping their hands! The current food pyramid was turned upside down, and it was now ok to eat plenty of meat and less fruit and veg. But what is Paleo, why is it all the hype and is the diet healthy for us? Alexandra Fancher explores.
Well, the Paleo diet definition is simple: Eat only foods that were available to our hunter and gatherer ancestors thousands of years ago during the Paleolithic Age.
Thousands of years ago, our ancestors survived on what we now call the Paleo diet, and although this may have been the best diet for that time period, our food supply has changed drastically since then. Also, thinking in terms of sustainability and our current food supply, is the Paleo diet a sustainable option?
The human genome evolves and adapts to diet and lifestyle changes. However, human physiology may not have had me to adapt to the rapidly changing, calorie-rich, nutrient-poor Western diet and its sedentary lifestyle.
A return to the Paleo diet and lifestyle of our ancestors would require hunting and gathering most of our food, which, for most people, just isn't feasible. But integrating elements of the Paleo diet may help us achieve the fitness and lifestyle we were genetically programmed to maintain, and some believe it can help reduce widespread chronic disease.
Potential health benefits of the diet plan include increased weight loss, reduced inflammation, increased satiety and stable blood sugar levels. It also promotes nutrient-dense and high-protein foods, which can support improved health.
There are negative nutritional aspects of the diet. Not only is the Paleo diet difficult to follow if you have any dietary restrictions, but the Paleo diet also eliminates several nutrient-rich food groups while allowing several unhealthy foods.
Looking for a resource on the Paleo diet for beginners? 
Now you know the pros and cons, you can choose whether this is a diet for you. If you want to give it a try, we have included some Paleo diet tips for you below. Here, you'll find some quick tips for maximizing your success on the Paleo diet, which Paleo diet foods you should include or avoid on the plan and a tasty recipe to get you started.
* Trying a 30-day Paleo meal plan can help you decide if the Paleo diet is right for you and if it can help you achieve your goals — whether that includes weight loss, increased energy or simply overall better health.
* Print out a list of healthy Paleo foods, and bring it with you to the grocery store for an easy reference. Look for organic fruits and vegetables and unprocessed foods with minimal added ingredients to ensure you're getting the best quality.
* Although there are plenty of Paleo meal plan delivery sites out there, doing your own grocery shopping and preparing your meals at home can give you more control over your diet.
*It can be easy to load your diet up with fried bacon and butter and still be technically following a Paleo diet plan. However, to get the most from the Paleo diet, opt for lots of fruits and vegetables, unprocessed meat, poultry and seafood, and heart-healthy fats, along with a few servings of seafood per week.
* Eat when you feel hungry, and don't worry about counting calories or macronutrients. The idea is to do what feels most natural to you and listen to your body.
*Any diet should be paired with a healthy lifestyle to maximize results. Exercise regularly, reduce your stress levels, stay well-hydrated and avoid unhealthy habits and you'll be much more likely to achieve your health goals with the Paleo diet plan.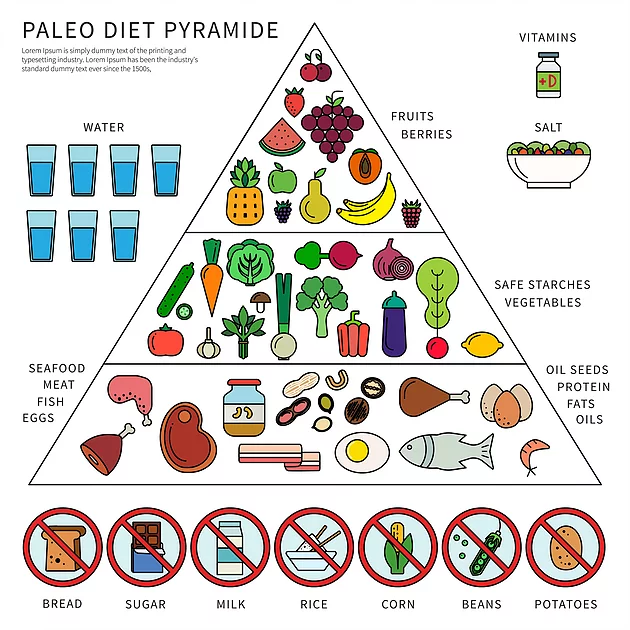 Best Paleo Foods
Following the Paleo diet plan can be a bit tricky as it can be challenging to know which foods you should include in your diet and which foods you should avoid. Here is a healthy Paleo diet food list with some foods that you should include in your diet:
Grass-fed beef
Seafood
Poultry
Fresh fruits
Fresh vegetables
Eggs
Nuts and seeds
Heart-healthy unrefined oils, such as olive, coconut, flaxseed, walnut and avocado oil
Foods to Avoid on the Paleo Diet Plan
Just as important as knowing which Paleo diet food groups you can enjoy is knowing which ones you should cut out of your diet. Here are the foods that you should avoid while following a Paleo diet plan:
Legumes (including beans and peanuts)
Dairy
Refined sugar
Refined vegetable oils
Processed/junk food
White potatoes
Cereal grains
Sugar-sweetened or caffeinated beverages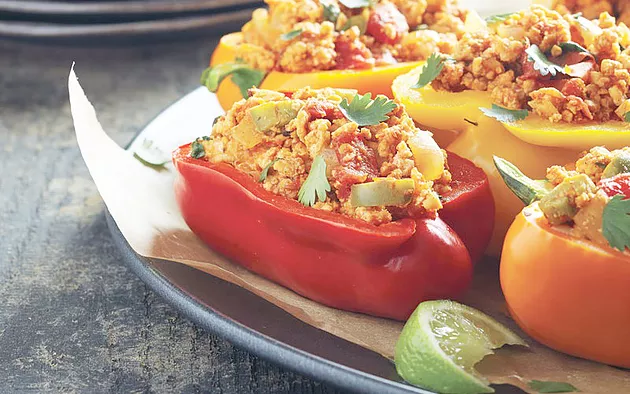 Mexican Stuffed Peppers
INGREDIENTS
2 tablespoons extra virgin olive oil
½ cup chopped onion
4 cloves garlic, minced
1 medium jalapeño or serrano chile, seeded and chopped
2 pounds ground uncooked chicken or turkey
2 tablespoons Mexican Seasoning (recipe below)
1 14.5 ounce can no-salt-added fire-roasted diced tomatoes
½ cup chopped fresh cilantro
4 medium red, yellow, and/or orange sweet peppers
Lime wedges
INSTRUCTIONS
In a large skillet heat oil over medium heat. Add onion, garlic, and chile; cook and stir 2 minutes. Add ground chicken; cook until no longer pink. Sprinkle with Mexican Seasoning; stir well. Stir in undrained tomatoes. Bring to boiling; reduce heat. Simmer, uncovered, 5 to 7 minutes or until most of the liquid has evaporated. Stir in ¼ cup of the cilantro.
Meanwhile, cut sweet peppers in half vertically (from stems to bottoms). Remove and discard stems, seeds, and membranes. In a large pot blanch peppers in boiling water 2 to 3 minutes or just until tender; drain. Fill peppers with chicken mixture.
For each serving, arrange 2 pepper halves on a plate. Sprinkle with the remaining cilantro and serve with lime wedges.
Serves 4
MEXICAN SEASONING INGREDIENTS
1 tablespoon cumin seeds
4 teaspoons paprika
1 tablespoon preservative-free granulated garlic
1 teaspoon dried oregano
½ to 1 teaspoon ground chipotle pepper or cayenne pepper (optional)
½ teaspoon ground cinnamon
¼ teaspoon ground saffron
MEXICAN SEASONING INSTRUCTIONS
In a dry small skillet toast cumin seeds over medium-low heat 1 to 2 minutes or until fragrant, shaking skillet occasionally. Remove from heat; cool 2 minutes. Transfer seeds to a spice grinder; grind to a powder. Transfer cumin to a small bowl. Stir in paprika, garlic, oregano, chipotle pepper (if using), cinnamon, and saffron. Store in an airtight container at room temperature up to 6 months. Stir or shake before using. Makes about ¼ cup.
All content on the orgayayana.com including: text, images, audio, or other formats are created for informational and inspirational purposes only. The responsibility for the information and views set out in the content on www.orgayana.com lies entirely with the authors and is not intended to be a substitute for professional medical advice, diagnosis, or treatment. Always seek the advice of your physician or other qualified health provider with any questions you may have regarding a medical condition. Never disregard professional medical advice or delay in seeking it because of something you have read on this website.