In the most non-discript of buildings, are nestled some of Singapore's best eco-friendly shopping spots… Journey East & Nature's Glory.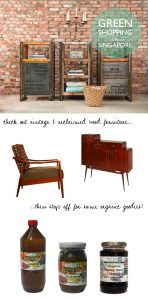 I found these shops in my search for the perfect dining room table, which has been going on for over a year now! A long time, I know, but it's not just that we have particular tastes, but we also have a particular need: we eat all of our meals outside on our balcony and need a table that is usually designed for indoors, but suited for outdoors. At Journey East we found a beautiful reclaimed teak table that I'm crazy excited about – and I'll show you as soon as I get it!
Then on my way out of the store, I saw Nature's Glory and ended up buying a packet of organic wasabi powder to make my own wasabi sauce and organic rainbow swiss chard, which is just one of  the most beautiful vegetables ever! I have a recipe coming for that too!
So wether you're just window shopping or looking to fill your home with beautiful furniture and your belly with gorgeous food – head over to Tan Boon Liat Bulding for a day of green shopping!